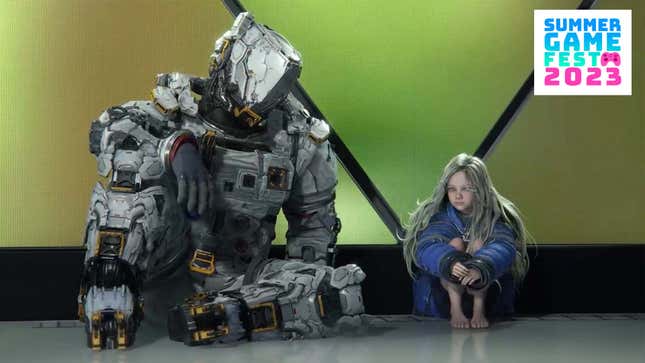 Today Capcom took to the digital stage as part of Geoff Keighley's big, not-E3 Summer Game Fest 2023 extravaganza. Capcom has been on a bit of a hot streak lately, with hits like the Resident Evil 4 remake, Street Fighter 6, and Monster Hunter Rise. So today was an opportunity for Capcom to either keep the good times going or signal that the hot streak might be cooling down.

Hopefully Street Fighter 6's New Open-World Won't Mean Capcom Skimps On The Fighting
Which was it? The full video is just below, or continue on for our round-up of everything Capcom revealed, announced, and presented, and let us know in the comments.
---
Kunitsu-Gami: Path of the Goddess
Capcom opened the show with a mention that this month is its 40th anniversary as a company before replaying the same Path of the Goddess trailer it showed at the Xbox showcase. The publisher says the colorful action game is running on the RE Engine.
---
Mega Man X Dive Offline
Apparently, the Deep Log, a digital bank containing Mega Man X memories, is under attack. Oh no! It's up to over 100, upgradeable Mega Man characters to team up and somehow save the Deep Log. This new Mega Man adventure is coming to mobile devices and PC in 2023.
---
Resident Evil 4 VR Mode on PlayStation 5 
Capcom had more details to share about this "more immersive version" of the hit remake. On PS VR2, Capcom says you can use motion controls to parry enemy attacks with your knife. Resident Evil 4 VR mode will be free DLC only available on PS VR2.
---
Pragmata is back (and delayed again)
Remember that cool-looking sci-fi game Capcom announced back in 2020 for PS5? Well, it's been delayed again. "It is with a heavy heart that we must further postpone the release of Pragmata," said Capcom at the end of a new trailer. No new release date was given for the game, which isn't a great sign...
---
Ghost Trick: Phantom Detective remaster gets a demo
Capcom had a new trailer for the upcoming remaster of its beloved cult mystery game, Ghost Trick: Phantom Detective. But you don't have to wait to play this new remaster, as Capcom also announced a new demo is out now. The full game is out on June 30 for Xbox One, PS4, Switch, and Windows.
---
Apollo Justice: Ace Attorney Trilogy
Good news for all you courtroom anime fans, Capcom has a new remastered collection of Ace Attorney games in the works. This time it bundles improved versions of Apollo Justice, Dual Destinies, and Spirit of Justice into a single collection. It launches in early 2024 on Xbox One, PS4, Switch, and Windows with support for seven different languages.
---
Capcom Town is a weird thing!
To celebrate the company's previously mentioned 40th anniversary, Capcom has launched a "digital theme park" called Capcom Town. This odd thing will include playable, classic Capcom games and other activities. It's kind of cute, but considering how slim this show felt, it also stood out as a sign that maybe we didn't need a full showcase, Capcom.
---
Exoprimal gets a new trailer
Next month, on July 14, Capcom's dino-killing co-op shooter Exoprimal launches on console and PC. So Capcom had a lot to show and say about the upcoming game, which will be launching on Game Pass on day one. Considering how silly and weird this game looks, that's probably a good idea.
Capcom also confirmed a second open beta will be happening between June 16-June 18 and it will feature new content, including 10-player missions.
---
New details on Dragon's Dogma II
Capcom ended the short showcase with a new look at its upcoming Action-RPG sequel Dragon's Dogma II. Well, first we had to watch the previous trailer for the game, but then we got some new info on how the sequel's pawn system will work and a better look at some new gameplay. No release date for this highly anticipated follow-up, but it's looking good!
Read More: Dragon's Dogma II Director Promises More Of What Fans Love
---
Kotaku is covering everything Summer Game Fest, from the main show on Thursday to other events happening throughout the next week. Whether you're into larger-than-life triple-A games or intimate, offbeat indies, you can keep up with all things SGF here.