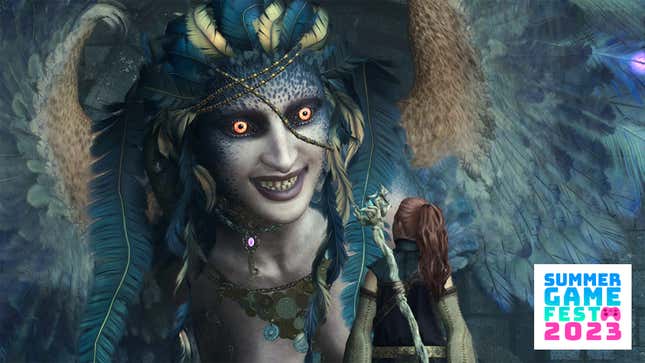 Just weeks after its first gameplay reveal during the recent PlayStation Showcase, Capcom showed more of its eagerly anticipated action-RPG sequel Dragon's Dogma II in today's Summer Game Fest Capcom Showcase stream, with director Hideaki Itsuno showing up to share new details.
The Witcher 3 Meets Tense Roguelike PvE Card-Battling In Rogue Mage
Itsuno wanted to emphasize that the game will follow the first in being single-player but with the assistance of AI "pawns," which you shape to have their own personalities and can share with other players. The game's physics will be enhanced, likely leading to more mid-combat hijinks. He suggested that NPCs in the world will have improved AI, and that the player will remain free to shape their character as they please, taking on situations as they wish. New vocations (character classes) beyond the original nine will be available, too.
This may all sounds a bit mild on the news front, but it's actually nice to hear that Capcom's expanding on the original game's ideas rather than fixing what very much wasn't broken. Fans do not want another Dragon's Dogma Online, which eschewed the single-player adventuring that made the original Dragon's Dogma so captivating.
You can watch Capcom whole Dragon's Dogma II presentation here:
The first Dragon's Dogma goes way back to 2012 on Xbox 360 and PlayStation 3, where it offered an uncommonly fun mix of open-world exploration, seat-of-your-pants action combat, and dark fantasy influenced by both Dark Souls and classic Dungeons & Dragons. Rarely does a great game ever seem to come out of nowhere quite like Dragon's Dogma did; pre-release it had very little hype. But once it came out, many folks who played it found it electrifying, and their clamoring for a follow-up soon became a cacophony. The Japan-only massively multiplayer follow-up Dragon's Dogma Online didn't cut it.
Only last June, over 10 years after the release of Dragon's Dogma, did Capcom finally confirm a true sequel was on the way. But we wouldn't get a glimpse of the actual new game until the first trailer debuted two weeks ago at the PlayStation Showcase.
It was quite reassuring to those of us who've waited so long for another taste of the series' distinctive spin on both fantasy tropes and action-RPGs. The weighty, hard-hitting combat looked to be in full effect, as did the wonderfully distinctive, medieval English-style dialogue, terrifically scary monster designs, world-shaking magic effects, themes of fate and predestination, and a disarmingly goofy (despite it all) sensibility.
Read More: Everything At Capcom's Summer Showcase
New for the sequel appear to be anthropomorphic animal-based characters (we saw a lion guy and snow leopard woman) and, dare I say it, slightly more colorful graphics. That first trailer was only about 90 seconds, but it's fair to say fans of the original Dragon's Dogma were eating well.
Dragon's Dogma II is coming to PlayStation 5, Xbox Series X/S, and Windows PCs.
---
Kotaku is covering everything Summer Game Fest, from the main show on Thursday to other events happening throughout the next week. Whether you're into larger-than-life triple-A games or intimate, offbeat indies, you can keep up with all things SGF here.