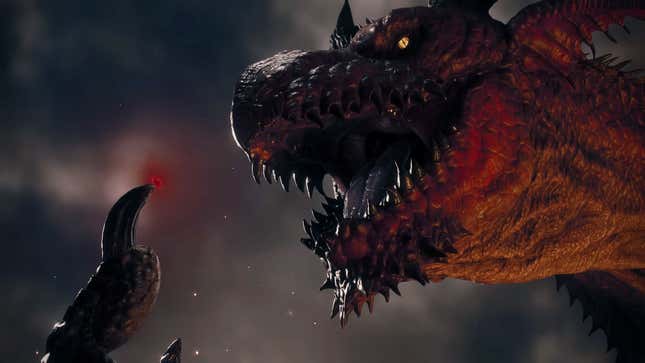 In June of last year, Capcom made some people very happy when it announced that its cult classic action-RPG Dragon's Dogma was getting a sequel. However, we hadn't seen even a glimpse of the game itself, until now. The first gameplay reveal trailer for Dragon's Dogma 2 left the Kotaku Slack shooketh as it debuted during the May 24 PlayStation Showcase broadcast. And y'all, having finally gotten this little morsel of a look at the upcoming game, I'm hella stoked.

Hopefully Street Fighter 6's New Open-World Won't Mean Capcom Skimps On The Fighting
Dragon's Dogma is an open-world action-adventure game with RPG elements. After a dragon rips your heart out of your chest in the worst breakup imaginable, you and some NPC recruits called Pawns set out to get revenge. The narrative wasn't particularly original, but the writing, along with the drama of the characters and the world's politics, made it an engaging story nonetheless. However, it was primarily the satisfying combat mechanics and highly customizable character creation and progression that earned the game its spirited cult following. Now, Capcom has finally shown off the sequel.
The trailer is incredibly brief, filled with bits of dialog and gameplay. We see the protagonist, a chosen hero called the Arisen, shooting magic balls at cyclopses, cutting up the necks of griffins, and dropping meteors on trash mobs. It's a delectable fantasy affair.
Capcom's promotion producer Ken Mendoza shared some minor details about the sequel on the PlayStation Blog, saying you'll meet intriguing new characters and fearsome monsters on your adventures in Dragon's Dogma 2.
"[Dragon's Dogma] gained popularity as a one-of-a-kind action-RPG thanks to its polished action and combat," Mendoza said, "as well as a unique system that made the player feel as if accompanied by others through pawns, mysterious otherworldly beings. Dragon's Dogma 2 follows in its footsteps elevating these elements further to create a truly immersive fantasy world for your adventures ahead."
I, for one, am hyped for this game. While I put a fair amount of time into The Elder Scrolls V: Skyrim, Dragon's Dogma not only hit a similar vibe as Bethesda's never-dying RPG, but in my opinion also managed to do high fantasy a bit better. Between its intricate leveling system that saw you choosing amongst a variety of distinct classes and its fascinating assortment of characters and quests, Dragon's Dogma was the game that dominated my early '10s gaming habits, especially when the Dark Arisen expansion dropped in April 2013.
While there's no release date or window yet, we at least know that Dragon's Dogma 2 will land on PlayStation 5—and Xbox—whenever it does come out.