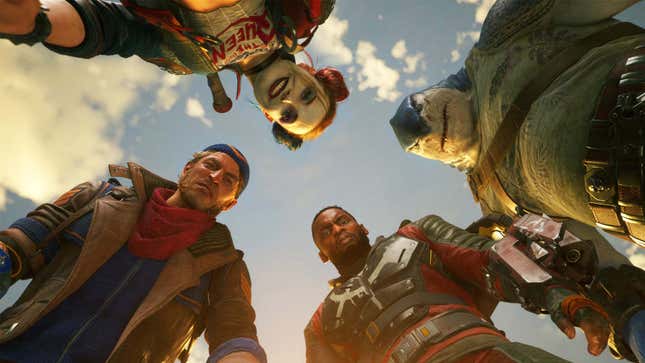 Suicide Squad: Kill the Justice League, the upcoming online co-op action shooter from Rocksteady, has reportedly been delayed from its planned May release to sometime "later this year." This follows last month's release of new gameplay footage being met with a flood of negative reactions from fans and critics alike.
Pokémon Scarlet And Violet's 'Free Exploration' Isn't All It's Cracked Up To Be
First revealed way back in August 2020, Rocksteady's Suicide Squad game stars popular DC villains like Harley Quinn and Captain Boomerang and is based on a long-running series of comics about villains being recruited by government agent Amanda Waller to take on wildly dangerous threats and complete ethically dubious missions. It's also connected to the Arkham games, unlike last year's other DC co-op flop, Gotham Knights. But if you were excited to play Rocksteady's next big game, you'll reportedly have to wait a little longer.

Today, Bloomberg reported that Suicide Squad has been delayed from May to a yet-to-be-determined date sometime later this year. The report, which cites a person with direct knowledge of the matter, doesn't directly connect last month's poor showing to the delay, but it seems very likely that Suicide Squad is getting some extra time following the backlash to try to tweak and improve as much as possible without completely revamping the game.

Don't expect big changes to the Suicide Squad game
Bloomberg reporter Jason Schreier explained on Twitter that the relatively short delay, assuming it still comes out this year, is likely not intended to "overhaul the core gameplay" and instead is just about "polishing" what's there already.
So don't expect WB and Rocksteady to rip out all the live-service crap, multiple currencies, or the always-online requirement. That would take a much longer and more expensive delay.

Kotaku has reached out to WB Games about the reported delay.

If this delay ends up happening, it won't be the first time Rocksteady's DC shooter has slipped. Suicide Squad: Kill the Justice League was originally scheduled to release last year, but in early 2022 it got delayed until spring 2023. Now it seems like the troubled shooter will miss that planned release date, too.