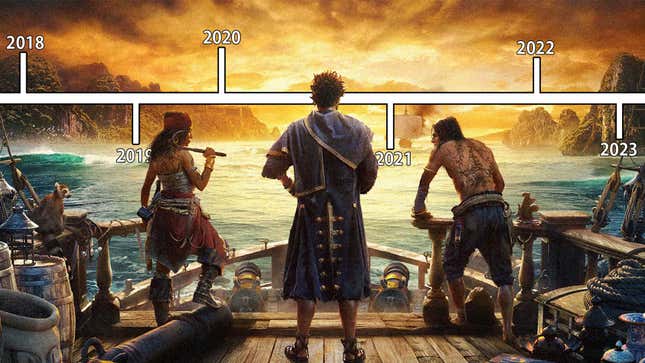 Skull And Bones started life as a multiplayer-focused expansion for 2013's excellent Assassin's Creed IV: Black Flag. Then it expanded into a bigger, MMO-like pirate game of its own. A decade later, and following its 2017 reveal and multiple delays, Ubisoft's online pirate sim is still missing. And just yesterday, Skull and Bones was delayed again with no new specific release date shared. So how did we get here?

Grand Theft Auto 6 Comments: A Dramatic Reading
Skull And Bones was first revealed to the public via a big and splashy E3 2017 presentation complete with gameplay and cinematic trailers. It was clear Ubisoft had a lot invested in the project. As of 2021, it has reportedly cost Ubisoft $120 million. Yet some staff who worked on the game said that the game barely existed when it was shown off and since then it's been reworked and changed over and over as its developers try to figure out what this game is and how it will play. Ubisoft is currently selling it as an online pirate game with a focus on combat and exploration, which could be a fun experience. But with each delay, it seems less likely that the final product will be worth the wait.

Skull And Bones Revealed, First Delay
As previously mentioned, Skull and Bones (then stylized as Skull & Bones) was first revealed via multiple trailers and videos during Ubisoft's 2017 E3 press conference. A lot of people liked the pirate boat stuff from Assassin's Creed IV: Black Flag and this looked like a game made up of just all that great boat stuff. When it was first announced at E3, Ubisoft gave it a 2018 release date–which only becomes funnier and funnier with each delay.
In May 2018, about a year after its reveal, Ubisoft delayed Skull and Bones into its 2019-2020 fiscal year which ran between April 1, 2019 and March 31, 2020. "In line with previous practices and in view of the acceleration of our digital transformation, growth in back-catalog sales, and excellent momentum of recent releases, Ubisoft has decided to give itself more time to develop Skull & Bones to offer players an even more engaging experience," explained Ubisoft about the delay.

Skull And Bones Returns To E3, Second Delay
Following that first delay, Ubisoft returned to E3 2018 and showed off more of Skull and Bones, this time presenting a PVE experience called "Hunting Grounds." This version of the game and the previous version shown at E3 2017 was eventually scrapped too, according to our own reporting. Ubisoft then delayed the game in May 2019, announcing that it would no longer ship in the 2019-2020 fiscal year, pushing its release date to sometime after March 2020.

The official Skull and Bone's Twitter account confirmed the delay on May 15, 2019. "We're going to batten down the hatches and push back on the game's arrival," tweeted Ubisoft. "This is a challenging news [sic] for us all, but it's what's needed to make Skull & Bones as awesome as it can be!"

Skull And Bones Goes Missing, Third Delay
After that May delay, Skull and Bones went a bit radio silent and even skipped E3 2019. The team was apparently going heads down to focus on developing the game and Ubisoft had other big games to advertise, hype, and launch. However, when it did resurface it was only more bad news.

On October 24, 2019, about four months after its previous delay, Skull and Bones was delayed again alongside a few other big Ubisoft games, like Watch Dogs Legion and Rainbow Six Quarantine. Ubisoft CEO Yves Guillemot confirmed the news in a conference call with investors and said the pirate game wouldn't release until sometime after April 2021.

Skull And Bones Finally Gets A Release Date, Fourth Delay
On May 11, 2021, Ubisoft execs once again got on a conference call and once again had to explain that yes, the delayed pirates game was once again…delayed. This time the game slipped from sometime after April 2021 to sometime between April 2022 and May 2023. This is what Ubisoft's CFO Frédérick Duguet had to say about the delay:

We strongly believe in the team's creative vision and they have been given an increasingly ambitious mandate for the game. Production led by [Ubisoft] Singapore has been advancing well over the past 12 months and the promise is better than ever. The additional time will allow the team to fully deliver on its vision.
In July 2022, Ubisoft finally nailed down a specific release date for its online pirate game. It announced that Skull and Bones, after numerous delays, was going to launch on November, 8 2022 for PlayStation 5, Xbox Series X/S, Google Stadia, and PC. This also meant that the game was skipping the last generation of consoles, which were about four years old when Skull and Bones was announced in 2017, but in 2022 were nearly a decade old.

Skull And Bones Gets A New Release Date, Fifth Delay
It seemed like maybe, just maybe, Ubisoft's troubled pirate sim was going to launch, but then on September 28, 2022, Ubisoft confirmed our own reporting and announced that the game was indeed getting delayed, again. The publisher's new release date of March 9, 2023 pushed the game out of 2022. The delay followed a technical test in September that didn't go great, with players reportedly claiming the progression felt shallow. Here's what the devs had to say about the delay:

Our team is hard at work polishing and balancing the experience ahead of the worldwide launch. As a result, we've made the tough decision to move our release date to March 9, 2023. We're very eager for you all to get your hands on Skull and Bones and dive in headfirst to the dangerous and exciting world of building your own pirate empire. To give you the best possible experience we've decided to take a little more time to make sure we can deliver exactly that.
Skull And Bones No Longer Has a Specific Release Date, Sixth Delay
All of that leads to this week. Yesterday, Ubisoft announced that, yet again, it had delayed the troubled Skull and Bones and this time it didn't give a new specific release date. Instead, the game is currently scheduled to launch in Ubisoft's fiscal year of 2023-2024.

"While Skull and Bones is now complete, we are using the remaining time until our launch to leverage feedback from our ongoing Technical Tests and upcoming open beta to polish and balance the experience," a spokesperson for Ubisoft told Kotaku in an email. "To fully deliver on this launch we are leveraging the full power of co-developing studios already involved in the development process, including Ubisoft Paris studio. Ubisoft Singapore remains the lead studio on Skull and Bones and the team is working full speed on the game experience and the development of its robust post-launch content."
All told, that's a rough path to walk and I'm not confident it's over. It seems unfathomable that Ubisoft would delay Skull and Bones again, but at this point, nothing seems impossible.

---
If Skull and Bones does release this year, it will be a decade since development started on the game. Since then, it has been delayed six times, appeared at multiple different Ubisoft events and E3 showcases, and has even outlived Google's streaming service, Stadia, which it was once supposed to launch on.

Today, in early 2023, it's hard not to feel bad for the countless devs who have poured years of their lives into this game and still don't have anything tangible to show for it. Hopefully, this all wraps up with the happy ending of a good game, and not the type of disappointment that leads to servers being shut off soon after launch.