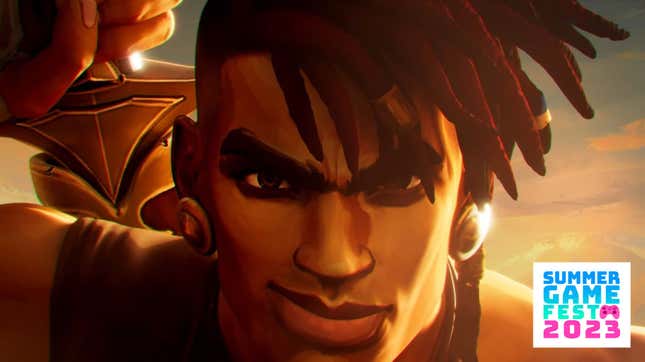 Ubisoft's livestream for the Summer Game Fest bonanza revealed an absolute ton of in-game footage from the new 2D Prince of Persia: The Lost Crown. It also gave us even more time to love the new Prince design for the game that has somehow managed to cause controversy.
The Witcher 3 Meets Tense Roguelike PvE Card-Battling In Rogue Mage
This surprise return to a 2D format for Prince of Persia was revealed during Thursday night's Summer Geoff Fest stream, but today we got to see a whole bunch more of it, including some of the enormous power moves we're going to get to play with.
Prince of Persia was originally released in 1989, the creation of a team led by Jordan Mechner. After a string of hits, the franchise then triumphantly returned in 2003 with the astounding Sands of Time, followed up by slightly diminishing returns with Warrior Within and The Two Thrones. Then things went a bit wonky, with the far more divisive 2008 reboot and a collection of smaller PoP games, The Forgotten Sands. But since 2010, the poor old Prince hasn't managed to get a new game out of the door.
A remake of Sands of Time has infamously failed to appear, juggled between Ubisoft studios, with its release date extended and extended, and eventually withdrawn entirely. This made it all the more surprising that alongside all that, a whole other PoP game was in the works, though it looks like it could be splendid.
There have also been a lot of angry internet people fuming in response to the footage because, as a species, we fear change. As VGC reported, the initial trailer has had waves of hate across multiple uploads, with dislikes outweighing likes by more than double.
Hilariously, some of the complaints have been that it's not a "real" Prince of Persia game because it's not 3D. Ahhhh, the guilt of youth. Others are upset that the Prince has a new look and is therefore not the proper Prince of their hearts. Except, as series creator Mechner rather brilliantly pointed out, said Prince has been massively redesigned in pretty much every game in the franchise.
This very promising new entry is due out on January 18, 2024, but given it's a Ubisoft game, we can probably expect it some time in the Space Year 30X7.
---
Kotaku is covering everything Summer Game Fest, from the main show on Thursday to other events happening throughout the next week. Whether you're into larger-than-life triple-A games or intimate, offbeat indies, you can keep up with all things SGF here.