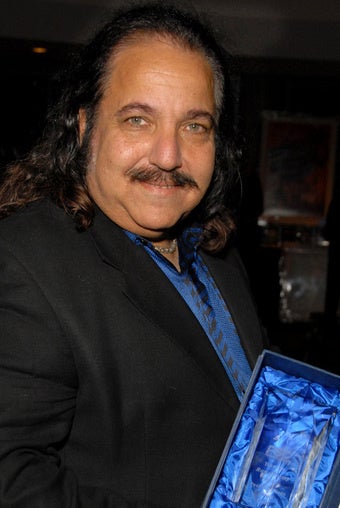 Who better to guest star on Kotaku in Valentine's Week than porn star Ron Jeremy? His opinion on sex versus violence in video games was one top story in a week that saw major reviews and news from X10.
Top Stories
Activision Shutters Guitar Hero Creators, GH: Van Halen Developers [Update]
The Day The Gamers Took Over Reselling
Prototype Developer Radical Cut In Half
Married By Master Chief, One Year Later
World of Warcraft: No Growth Since 2008
Activision Narrows Music Focus To Guitar And DJ Hero
Ron Jeremy: Sex, Not Violence, Is Beautiful and Natural
Report Mentions Nintendo's New Hardware, Miyamoto's New Game
Pirate Ordered To Pay Nintendo $1.5 Million
Dead Space Extraction, Planet Cracker Coming To XBLA, PSN?
News
Perfect Dark XBLA Could Get More New Maps, Weapons
Microsoft: This Will be the Biggest Year In The History of Xbox
Original Survivors Get Chatty In Left 4 Dead 2's The Passing
Left 4 Dead 2's "The Passing" Coming March, Followed By Comic, More L4D DLC
Alan Wake Slated For May 18, Looks Good
We're At X10, In The Shadow Of Apple?
Dev Eyes Call of Duty: World at War for iPhone
iPhone's World at War: Zombies Getting Verruckt Tomorrow
Playing The Tatsunoko Vs. Capcom Credits
Mass Effect 2's Yamm Isn't So Bad, Yo
Hey, Little Sister
Mad Catz Is Making Mad Moneyz
Final Fantasy XIII Gets An Xbox 360 Bundle In North America
Star Trek MMO Log, Stardate 2010.09
Silent Hunter 5, Anno Headed to iPhone
Reviewing the Reviewers: Or How To Break A Broken System
Pocket God Leaps From iPhone to Comic Book
Final Fantasy's Angry Australian Motorbike
Diablo III's Female Monk Has The Cutest Haircut
Finding The State Of The HD Generation
EA: "Something Far-Reaching Coming From Mass Effect" In 2011
Relax, Square Enix Is Doing Just Fine
Sports
Check That - Check Swings Are Back in MLB 2K10
Hold the Phone, NHL 2K11 May Not Be Dead After All
The Madden Sim Bags Its Sixth Victory in Seven Years
EA Sports 2010 Releases Do Not Include NCAA Basketball
Grading Madden's Preseason Predictions
Opinion
Those Who Play Video Game Tic-Tac-Toe Will Be Judged
What Games Could Be Shooters?
Something's Not Quite Right About Nintendo's Aussie Pirate
Speak-Up On Kotaku: Damaged Packages, Missing PS2s, Bad Science, And Cheating
Is Love Plus Better Than Love?
The Daddening Of Video Games
Columns
can videogames make us happy?
Stick Jockey's Super Sim Spectacular
Love In Hell: Dante's Inferno's Take on Romance
Reviews, Previews, Hands-On and Impressions
SOCOM: U.S. Navy Seals Fireteam Bravo 3 Review: Fire In The Hole!
Sins Of A Solar Empire: Diplomacy Micro-Review: Talk Is Cheap
Frankenreview: Heavy Rain
Tatsunoko vs. Capcom: Ultimate All-Stars Review: FanFic Comes to Life
Battlefield Bad Company 2 Impressions: The Tougher Battle
Alpha Protocol Impressions: Looks Deceive
Frankenreview: Dante's Inferno
Heavy Rain Review: No Wrong Conclusion
Dante's Inferno Review: Big Ideas, Small Problems
Frankenreview: BioShock 2
White Knight Chronicles Review: Workin' On Our Knight Moves
BioShock 2 Review: In Case Of Rapture
Infinite Space Preview: Seems Vast And Charty
Numbers
Japan Is Still Big Portable Country
New Super Mario Bros. Wii Was January's Biggest Game In The U.S.
Love
Will You Be My Player 2?
Love - Exciting and New
The Emotion, And Humor, Of Mass Effect 2's Romantic Interludes
Road to the IGF
Mile Marker 27: Super Meat Boy!
Mile Marker 28: Trauma
The Road to IGF Is Paved With Good Games
Fun
Left 4 Dead: The Movie Is A Dominican Republic Exclusive
Kotaku 'Shop Contest: Proto-Natal Edition