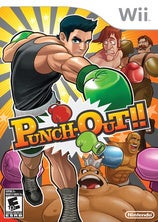 Significant announcements for the PSP and Nintendo led the charge this week. Buzz about a UMD-less PSP almost outshone word of major titles releasing on Sony's handheld and Ninty's upcoming catalog. The week in originals:
PSP
Three Reasons This Could Be the PSP's Year
LittleBigPlanet PSP to Feature Creation, Interoperability With PS3
Perry: PSP 2 is Real, Could Hit This Fall
San Andreas PSP Listing The Result Of Retailer Daydreaming
Fitty
Why Is Blood On The Sand So Absurd? Fitty Did It For The Kids
50 Cent Optioning Saint's Row Rights For Possible Movie
Video
The Official GTA: Chinatown Wars Trailer
Mm-hmm
Sony: UMD Business Is Critical To Us
Super Mario Kart: Most Influential Video Game in History
Wat
Liveblogging The Chun-Li Movie
"Reviews"
We Play Battle Rage So You Don't Have To
Street Fighter The Legend of Chun-Li Review: Once More, With Feeling
OK, Really, Reviews
Halo Wars Review: A Fistful of Spartans
Dawn Of War II Review: Once More, With Tyranids
Frankenreview: Halo Wars
The House Of The Dead: Overkill Review: A Blast From The Past
Rocky
The Making Of Wrestle Jam: The Wrestler's Unsung Hero
Mountain
How Much Do Blizzard Contribute To Activision's Bottom Line?
News
This Year's Tokyo Game Show Theme Is Healthy
Japanese Court Blocks Sales Of The DS's R4 Cart
Capcom Making Another PSP Monster Hunter Game (Durr)
Nintendo's 120 Game Line-Up, Punch Out, Excitebots Dated
Nintendo Unveils New Wii Controller
Could PS3 Deals Be Indicator of Looming Price Drop?
A Closer Look At The New DSi Colors
Capcom Says Lost Planet 2 "Is Being Developed For The Xbox 360"
"Final Fantasy XIII Development Going Favorably For 2009 Launch"
Japan Is Getting Three New DSi Colors
PSN Accounts Exceed 20 Million Worldwide
Last Year, World Of Warcraft Guild Leader Also Won Oscar
Square Enix Settles Lawsuit With Sword Pirates
Resident Evil 5 Declassified Packed With RE Background, Details
British Kid Sets Street Fighter World Record
GameStop's "How To Talk To Women And Shill Wii Non-Games" Training
Tales Of Horror From The Circuit City Liquidation
This Chinatown Wars Van Begs To Be Stolen
Lost Planet 2 Announced, Features Jungles
Uwe Boll Wins Big At Weekend Movie Awards
Xbox LIVE Gold Members Getting Weekly Deals
Street Fighter IV: 2 Million Shipped