This month, many of the nation's video game sellers and makers met in Houston, Texas with Sony to talk all things PlayStation.
Elden Ring's Top Five Spells, According To FromSoftWare's Stats
At the top of the list was the entertainment behemoth's plans for a renaissance of the PlayStation Portable.
The PSP revival is being led by three key factors: A resurgence in developer interest in the portable, a push for more digital downloads, and rumors of a new, sleeker model of the device.
G/O Media may get a commission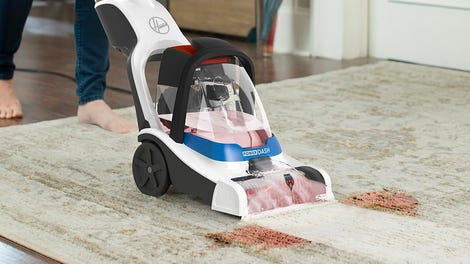 26% Off
Hoover PowerDash Pet Compact Carpet Cleaner
While about 50 million people worldwide own PlayStation Portables, the device has, until recently, had trouble attracting developers. Last year, there was a dearth of good titles to choose from for the portable gaming device.
That's because back in 2006, PlayStation Portable sales seemed to be bottoming out and a lot of developers decided to invest their money in other systems. But in 2007, with the release of a slimmer PSP model, PlayStation Portable sales started picking back up.
"When we met with developers in 2008, they wanted to know how they could get back into PSP development," said John Koller, Sony Computer Entertainment of America's director of hardware marketing.
Because games can take a year to a year and a half to create, that gap in development meant a dry year for PSP owners in 2008. But at the week-long Destination PlayStation gathering, Sony unveiled a slew of high-end games for the PSP set for release this year.
Among the list is a portable version of PlayStation 3's popular platformer LittleBigPlanet, a PSP version of Ubisoft's Assassin's Creed and a PSP version of the PS3's mud racer MotorStorm. And, Koller said, there are quite a few more big, exciting titles for the system that haven't been announced yet.
Sony is also in talks with developer Ready at Dawn, creator of the highest-rated game for the platform, about making a new game for the PSP.
"This is going to be the year of software for the PSP," he said.
Besides attracting new games to the platform, Sony is going back through their library of old games, all the way back to the original PlayStation, to see which titles they can bring to the PSP. The titles they select would most likely be sold on the PlayStation Network, allowing gamers to download the game and install it on the PSP.
"We are making a concerted effort for digital distribution," he said.
Most triple-A titles coming to the PSP still use the proprietary UMD disc, but it may not be long before we start seeing more games go directly to digital distribution.
If more games go to digital distribution, it might make sense for the PSP to be redesigned without a UMD drive, making the device less expensive, smaller and with a longer battery life.
While Koller says Sony remains committed to the UMD, at least one developer says he knows that Sony is working on a new PSP design that won't feature a UMD drive.
Acclaim's David Perry says the device is already having games developed for it.
Wedbush Morgan Securities analyst Michael Pachter thinks eventually ditching the UMD is a good idea, but says Sony is stubbornly committed to their proprietary formats.
"Is it really worth building a drive in the PSP?" Pachter said. "The answer is probably no. The device is bulkier, heavier, and has less battery life with it."
"They would be better off designing it with flash memory."
With the PSP about halfway through its life-cycle, it's probably about time for another major redesign.
Well Played is a weekly column about the big news of the week in the gaming industry and its bigger impact on things to come. Feel free to join in the discussion.