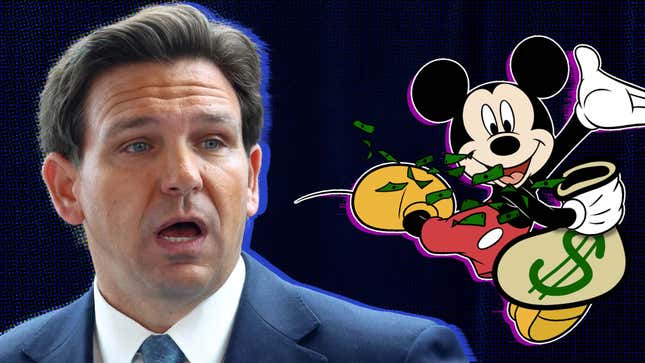 Last week, Disney CEO Bob Iger asked rhetorically if Florida and its governor, Ron DeSantis, wanted all of the company's business and taxes. Now, events are moving beyond the mere rhetorical as Disney—citing "new leadership and changing business conditions" in Florida—has canceled big plans to move thousands of its staff and their families to the Sunshine State from California, and also axed a planned $1 billion facility in Florida.
We Need To Talk About This John-Wick-But-It's-Cute-Girls Anime
As reported by Deadline on May 18, Disney Parks and Resorts boss Josh D'Amaro sent a note to Disney Parks, Experiences & Products employees explaining that the massive corporation is abandoning its plan to transfer about 2,000 employees and their families to Florida. Also in the note was the announcement that Disney will no longer be building a massive campus facility in the state's Lake Nona region. Staff who have already relocated in preparation for that facility will be given the opportunity to return back to California.

"Given the considerable changes that have occurred since the announcement of this project, including new leadership and changing business conditions, we have decided not to move forward with construction of the campus," D'Amaro wrote in his Thursday note. "This was not an easy decision to make, but I believe it is the right one. As a result, we will no longer be asking our employees to relocate. For those who have already moved, we will talk to you individually about your situation, including the possibility of moving you back."

These now-canned plans were announced back in 2021, with Disney then looking to move most jobs and related staff not directly working on California's Disneyland theme park to Florida. In 2022, as tensions between Disney and Florida increased, the company announced a delay until 2026. Now, as Florida and Disney's war grows hotter, it seems the Walt Disney Company is done dealing with DeSantis, and is willing to walk away from a reported $550 million in tax credits, too.

Why are Disney and Florida's governor at war?
This ongoing war between Disney and DeSantis—likely to be one of the GOP's frontrunners for president in 2024—started in 2022 with House Bill 1557, referred to by opponents as the "Don't Say Gay" bill, which prevents discussion of sexual identity in Florida's public schools. The law is just one part of DeSantis' ongoing culture war over LGBTQ issues. After DeSantis signed the controversial bill into law—and following pressure both internally and publicly—the Walt Disney Company eventually issued a statement in March of last year, calling for a repeal of the bill. In response to Disney's lukewarm stand against the law, the governor said the company had "crossed the line." 

What followed was an action seen by many as punishment against Disney for speaking out against the controversial bill. DeSantis went after Disney World's special zoning district, which was established in 1967 and allowed the popular park to be exempt from normal Florida laws concerning matters like building codes.

Following the spat, the governor created House Bill 9B to restructure the district. The bill, in part, gave the district a new name, and appointed a new board of DeSantis-picked directors to oversee it. This crony-packed board lost most of its power this past March after being outsmarted by Disney lawyers. The defanged board then tried to undo what had been done, leading to an immediate lawsuit filed by Disney on April 26 to fight back against the state and DeSantis.

Ron DeSantis and California Governor Newsom respond to canned plans
California Governor Gavin Newsom was quick to respond to today's news, tweeting, "Turns out, bigoted policies have consequences. That's 2,000+ jobs that will be welcomed back with open arms to the Golden State. Thank you for doing the right thing, Disney."
Shortly after the news broke that Disney was canceling its plans to invest more jobs and money into Florida, DeSantis press secretary Jeremy Redfern shared a statement about the situation. According to Redfern, the state was "unsure" that the planned facility in Lake Nona would ever happen. He also suggested that Disney was in "financial straits" and that this move was "unsurprising."

"Disney announced the possibility of a Lake Nona campus nearly two years ago," said Redfern in the statement. "Nothing ever came of the project, and the state was unsure whether it would come to fruition. Given the company's financial straits, falling market cap, and declining stock price, it is unsurprising that they would restructure their business operations and cancel unsuccessful ventures."

While DeSantis and his office may be playing this one cool at the moment, it's unlikely they are happy to see billions of dollars in future taxes and revenue, as well as thousands of jobs, vanish into the ether as Disney begins to reevaluate how much business it wants to conduct in Florida going forward.