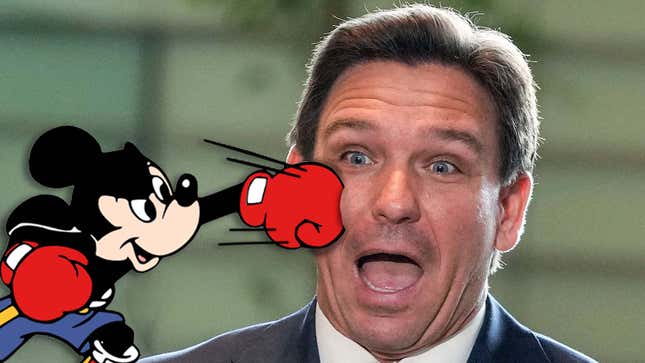 Disney CEO Bob Iger verbally pushed back against Florida Governor Ron DeSantis and his ongoing war against Disney World and the company, pointing out all the taxes his corporation pays the state and rhetorically asking if Florida still wants its business and all the money that entails.
Disney's New Post-Apocalyptic Anime Proves The Mouse Has Good Taste
On May 10, as reported by Deadline, Iger spoke out against DeSantis and the state's recent legal moves against Disney, claiming that the company was the "largest taxpayer in Central Florida" after paying over $1.1 billion dollars in state and local taxes in 2022. "There's…a false narrative that we've been fighting to protect tax breaks as part of this," Iger claimed.

"This is about one thing and one thing only, and that's retaliating against us for taking a position about pending legislation," Iger said, and then commented on his company's (tepid) disapproval of Florida's horrible "Don't Say Gay Bill." "We believe that in us taking that position, we're merely exercising our right to free speech." He then asked rhetorically, "Does [Florida and DeSantis] want us to invest more, employ more, and pay more taxes or not?"

Why are Disney and Florida's governor feuding?
This verbal and increasingly legal war between Disney and DeSantis—likely to be one of the GOP's front-runners for President in 2024—started in 2022 with House Bill 1557, referred to by opponents as the "Don't Say Gay" bill. It prevents discussion of gender and sexual identity in Florida public schools. The law is a part of DeSantis' continuing participation in the ongoing culture wars over LGBTQ issues. After the controversial bill was signed into law by DeSantis—and following pressure both public and internal—the Walt Disney Company eventually issued a statement in March of last year calling for a repeal of the bill. In response to Disney's rebuke, the Governor said the company had "crossed the line." 

What came next was a move seen by many as a direct punishment against Disney for speaking out against the bill. DeSantis went after Disney World's special district, which was established in 1967 and allowed Disney World to be exempt from normal Florida laws concerning matters like building codes and water management.

But following the spat, the governor created House Bill 9B to restructure the district. The bill, in part, gave the district a new name, and DeSantis appointed a new board of directors to oversee it...the same board that lost all its power this past March after being outsmarted by Disney lawyers. The defanged board then tried to undo its defenestration, leading to a lawsuit filed by Disney on April 26 to fight back against the state and DeSantis.

Disney claims Florida benefitted from its special district, too
Now, as it becomes increasingly clear this fight is headed to the courts, Iger's pushed back against DeSantis and the governor's legal team, claiming that all of this brouhaha isn't actually about just the Disney World special district and the local powers it gave the company.

"This is not about special privileges or a level playing field or Disney in any way using its leverage around the state of Florida," Iger said. "There are about 2000 special districts in Florida, and most were established to foster investment in development. It basically made it easier for us, and others—by the way—to do business in Florida. And we built a business that employs, as we've said before, over 75,000 people and attracts tens of millions of people to the state."

Iger then pointed out that while the district benefited his company, it also benefited the state of Florida, as it let Disney World grow into the tourism giant and moneymaker it is today, adding that, "...it's misleading to not also consider how much Disney benefited the state of Florida."
Disney's new lawsuit shows this saga is far from over, and it's unlikely DeSantis will back down anytime soon as he begins his presidential campaign. Meanwhile, DeSantis doesn't just have a massive and powerful corporation to worry about, but he is also reportedly being coached by his staff on how to stop looking so fucking goofy all the time in photos.