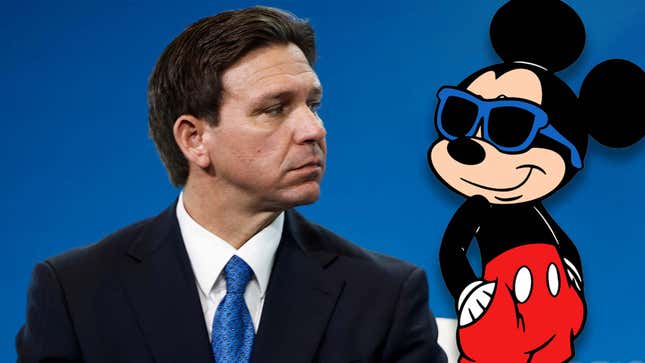 The ongoing war between Florida Governor Ron DeSantis and Disney is heading to court. Today, Disney and its army of lawyers filed a lawsuit against DeSantis and others over what it calls a "targeted campaign of government retaliation." It's the latest chapter in an ongoing war between the two.

We Need To Talk About This John-Wick-But-It's-Cute-Girls Anime
On April 26, Disney filed a lawsuit in the U.S. District Court for the Northern District of Florida. Florida governor Ron DeSantis is directly named in the lawsuit as well as Meredith Ivey, the Acting Secretary of Florida's Department of Economic Opportunity, and the DeSantis-appointed members of the Walt Disney World special district oversight board. This was the same board that discovered last month that Disney and its lawyers had legally stripped the committee of most of its power before its first meeting via a development agreement, angering DeSantis and his cronies.

Why Disney is suing Ron DeSantis and Florida
The new lawsuit comes just after the Florida governor's appointed board—which are intended to oversee the previously named Reedy Creek Special District—had voted unanimously in a public meeting earlier Wednesday to declare the Disney-approved agreement "void and unenforceable." This appears to have been the last straw for Disney and its legal team.
"Today's action is the latest strike: At the Governor's bidding, the State's oversight board has purported to 'void' publicly noticed and duly agreed development contracts, which had laid the foundation for billions of Disney's investment dollars and thousands of jobs," Disney wrote in its lawsuit against DeSantis and his board.
Disney called the move "patently retaliatory, patently anti-business, and patently unconstitutional." Mickey Mouse's parents and their legal team also directly referenced the governor's own words earlier this month, when he threatened that he might look at adding more taxes on hotels or toll roads into the park. He even suggested putting a state prison next to the park, according to Disney's lawyers. The suggestion seemingly being that he and his allies "will not stop" going after the company and its large Florida theme park.
How the war between Disney and DeSantis started
So what started all of this? Why is one of the GOP's biggest presidential front-runners in 2024 fighting Disney so aggressively? It all goes back to House Bill 1557.
Referred to by opponents as the "Don't Say Gay Bill," it targets and prevents discussion of gender and sexual identity in Florida public schools. The law is a part of DeSantis' broader participation in the ongoing culture wars over LGBTQ issues.
Following the signing of HB 1557 and public pressure, the Walt Disney Company eventually issued a statement calling for a repeal of the bill. In response to Disney's tepid rebuke of the bill, Governor DeSantis said that the company "crossed the line." He added: "We're going to make sure we're fighting back," characterizing Disney's opposition to the law, and broader inclusivity measures, as "threatening our parents and threatening our kids."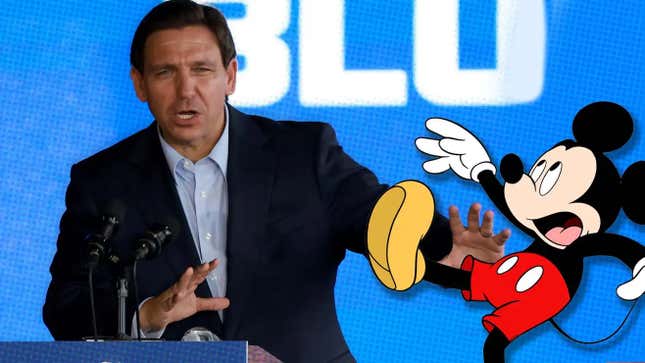 In a move that was seen by many as direct punishment for speaking out against the bill, DeSantis went after Disney World's special district, which was established in 1967. Known as the Reedy Creek Improvement District, it was created because, at the time, Walt Disney wanted more control of the area surrounding his soon-to-be-opened Walt Disney World resort. He had grand notions of a planned, private city, and wanted more control over area laws. Though the city never happened, the district remained and as a result, Disney World hasn't had to follow Florida laws concerning matters like building codes or water management.

But following the spat between DeSantis and Disney over the company's support for LGBTQ rights, DeSantis used House Bill 9B to restructure the district. As part of this, the district got a new name, and he also appointed a new board of directors to oversee it...the same board that lost all its power to Disney lawyers and which just tried to void that agreement, setting off today's lawsuit.

"Disney regrets that it has come to this," said the company in the newly filed lawsuit. "But having exhausted efforts to seek a resolution, the Company is left with no choice but to file this lawsuit to protect its cast members, guests, and local development partners from a relentless campaign to weaponize government power against Disney in retaliation for expressing a political viewpoint unpopular with certain State officials."