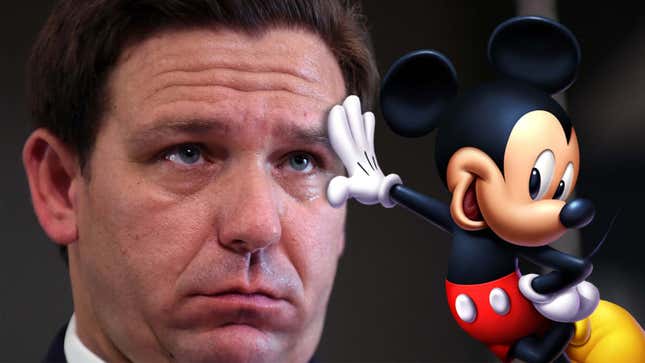 As you may have heard, Florida governor Ron DeSantis has been culture-war feuding with one of Florida's more famous corporate tenants, The Walt Disney Company. Earlier this year, DeSantis directed the state to take over control of the special district where Disney World is located. As such, Republicans appointed a new board to oversee the district and Disney, suggesting they would even have input on what entertainment the company would create. But it turns out that, thanks to some inspired lawyering from Disney's camp, DeSantis' hand-appointed board of cronies will be more or less powerless to effect any change for, um, decades.
Disney's New Post-Apocalyptic Anime Proves The Mouse Has Good Taste
Let's back up. Established in 1967, the Reedy Creek Improvement District was created because Walt Disney wanted more control of the area surrounding his soon-to-be-opened Walt Disney World resort. He had grand plans for a planned, private city, and wanted more control over area laws. Though the city never happened, the district remained and as a result, Disney World hasn't had to follow Florida laws concerning things like building codes or water management. In a sense, this gave the Walt Disney Company its own mini-government over which it privately maintained authority, and also allowed it to follow a different, more corporate-friendly tax policy. But now, after a spat between DeSantis and Disney over the company's (tepid, by any measure) support for LGBTQ rights, DeSantis is using House Bill 9B to restructure the district. As part of this, the district will get a new name, and he recently appointed a new board of directors to oversee it.

One problem: Disney lawyers don't fuck around. So on the morning of March 29, when the new board of DeSantis-picked directors convened for their first meeting, they discovered that the previous board of directors had—on their last day in power—signed a new agreement with Disney that effectively stripped the board of any power beyond a few minor details, like managing traffic or road upkeep. It further prohibits the district from using Disney-owned brand names or the likenesses of Mickey Mouse and other characters without the corporation's explicit approval. Basically, the new board's been completely undermined, and its members aren't happy about it.

"This essentially makes Disney the government," board member Ron Peri said, "This board loses, for practical purposes, the majority of its ability to do anything beyond maintain the roads and maintain basic infrastructure."

Disney lawyers tied the new agreement to the lives of the British royals
Making matters even funnier is that the new agreement with Disney will remain in place for a very long time. How long? I can't actually tell you because it depends on how long the current, living members of the UK's royal family stick around. From the agreement:

This Declaration shall continue in effect until twenty-one (21) years after the death of the last survivor of the descendants of King Charles III, King of England living as of the date of this Declaration […]
Not a royal watcher? This means that until 21 years have passed since the deaths of Princes William and Harry as well as their various children, Disney will retain control over its special district. The youngins include Prince George, Princess Charlotte, Prince Louis, Prince Archie, and Princess Lilibet. That last kid is only 21 months old. The rest are all under 10. And keep in mind, even when all of them have died, it will still take 21 years before whoever is still on the Reedy Creek board regains control of the district. It could easily be more than 100 years before that happens.

Read More: The 8 Most Controversial Rides In Disney Theme Park History
Before you assume this is some weird one-off trick by Disney or a reference to its "Magical Kingdom" keep in mind that these types of "Royal Lives" clauses aren't a new idea and are used to get around a legal concept known as the "rule against perpetuities." I can't fully explain it, but from what I understand, some Disney lawyers are likely giggling like schoolkids right now for getting to pull this old chestnut out of storage.
The five-member board of Republican partisans has at least accomplished one task: Yesterday it voted to retain two law firms to try to find a way to restore its newly diminished powers. Chairman Martin Garcia said that any resulting legal challenge might possibly reach the Supreme Court.
DeSantis is much worse than mega-corp Disney
Now, of course, it's weird to cheer on a corporate behemoth like Disney. This is a company that has single-handedly destroyed our copyright system, has laid off more people than I'll ever know, and which continues to consume more and more of pop culture, like a hungry, ancient god looking to destroy everything it can't control.

But as bad as Disney is, DeSantis is much worse. His fascist policies in Florida are horrific, often targeting LGBT and especially trans people. Just some of the awful things he's done as governor of Florida include barring residents from using Medicaid to cover treatment for gender dysphoria, cutting a mental health program for survivors of the horrific Pulse nightclub shooting, and pushing schools to out LGTBQ students to their parents.

So while I hate the idea of Disney using its vast resources and legal teams to do whatever it wants and avoid government oversight, in this case, I'm giving myself the okay to smile a bit as ol' DeSantis and his sycophants discover a truth that fan artists and creators around the world have known for decades: You don't fuck around with Mickey Mouse's lawyers.