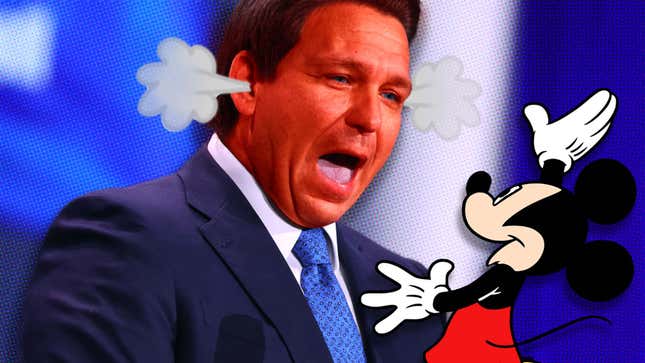 Welcome back, folks, to the ongoing battle between Florida Governor Ron DeSantis and the Walt Disney Company. This week, the two are at it again, with DeSantis calling for a criminal investigation into Disney's lawyers for out-maneuvering his goons and retaining control of the special district that contains Disney World. Meanwhile, Disney CEO Bob Iger publicly called DeSantis' attempts at controlling the company "anti-business" during a meeting with shareholders.
This Adventure Game Wants You To Leave Society
If you're joining us in the middle of this culture war, here's some background. The Reedy Creek Improvement District, established in Southern Florida in 1967, was created because Walt Disney wanted more control of the area surrounding his soon-to-be-opened Walt Disney World resort. He had grand plans for a private city, and even after the city never happened, the special district remained. Since then, Disney World hasn't had to follow Florida laws concerning things like building codes. In a sense, this gave the company its own mini-government over which it privately maintained authority. But after a 2022 spat between DeSantis and Disney over the company's (tepid) support for LGBTQ rights, DeSantis used Florida House Bill 9B to restructure the district.

As part of this, he appointed a new board of directors to oversee the district. But upon showing up for its first meeting, the crony-packed new board discovered that, in its final hours, Disney's outgoing board had legally given nearly all control over the district back to Disney and, weirdly, tied the expiration of this new state of affairs to the lifespans of various members of the UK's royal family.

DeSantis sends angry letter about Disney's legal win
As you might expect DeSantis isn't very happy about any of this, and on April 3 released a letter he sent to Florida's Chief Inspector General Melinda Miguel. In the one-page letter, he asked Miguel to "review and investigate" the whole affair, suggesting Disney was trying to "nullify" House Bill 9B entirely.

"These collusive and self-dealing arrangements aim to nullify the recently passed legislation, undercut Florida's legislative process, and defy the will of Floridians," DeSantis wrote in the letter.

Read More: 10 Best Star Wars Games Ever Made
He further stated that his legal counsel had thoroughly looked over the deal passed by the old board of directors and found "inadequate notice, lack of consideration, improper delegation of authority, and ethical violations, such as conflicts of interest and self-dealing."

DeSantis wants a "thorough review and investigation" into the qualifications of the former board members. He also wants the state's authorities to check and see if there was any "involvement of Walt Disney World employees and agents" or "financial gain or benefit derived by" the company in passing the constraining pact. He suggests any such violation should be handled by and referred to the "appropriate authorities."

Disney's CEO responds to DeSantis
While all this was happening, Disney held a stockholder meeting on Monday where it set out plans for the company's future, announcing a new live-action remake of Moana, even. During that meeting, CEO Bob Iger talked publicly about DeSantis' recent actions. He pointed to the company's continued investment in Disney World, before saying:

"Those investments, we estimate, will create 13,000 new Disney jobs and thousands of other indirect jobs, and they'll also attract more people to the state and generate more taxes. And so our point on this is that any action that supports those efforts simply to retaliate for a position the company took sounds not just anti-business but it sounds anti-Florida, and I'll just leave it at that."

It's the first time returning CEO Bob Iger has publicly spoken about DeSantis' continued legal battles with Disney, and likely won't be the last as the two continue to fight over the future of the Happiest Place on Earth.

And while I don't normally cheer on mega-corps like Disney, I'm more than happy to sit back and watch fascist shitstain Ron DeSantis waste his time and money on a fight against Mickey Mouse's lawyers. As we've already said: You don't fuck with Disney's lawyers, dude.