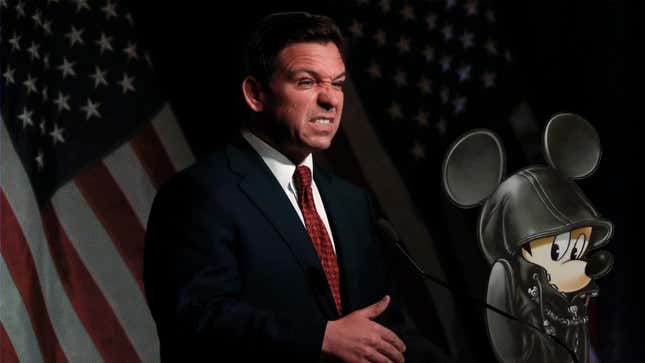 After several months of feuding with the Walt Disney Company's lawyers, Florida governor Ron DeSantis doesn't seem to recognize when he's being outgunned. He's proved that he's willing to use everything within his arsenal to punish a corporation that opposes the "Don't Say Gay" law—including theme park rider safety laws.

The Top 10 Most-Played Games On Steam Deck: May 2023 Edition
On April 17, the Orlando Sentinel reported that the governor announced that he would be putting forward a proposal that strips Disney of "special privileges" that allow the corporation to inspect the safety of its own theme park rides and self-report injuries sustained on those rides, rather than being inspected by Florida's agricultural agency (like state fairs currently are). According to one Sentinel reporter, parks such as Universal, Legoland, and Sea World would still retain exemptions from safety regulations. Kotaku reached out to the governor's office to ask why Disney was singled out, but did not receive a response by the time of publication.
This move is objectively a good thing for consumers. Floridian regulators have been trying to reform rider safety laws for years, since the current rules allow theme parks to handle injury reports themselves. This led to incidents such as Universal Orlando labeling a broken neck sustained on one of its racing rides as "numbness" and a child's broken bones as "foot pain." If government regulators start inspecting Disney rides, the megacorp will be subject to more independent oversight. Sorry if you visit any other major theme park in Florida, though—the odds of recourse for rider injury are going to be lower.
Senator Geraldine Thompson praised the initiative for raising the safety standards for Disney's rides. "We want people to know that amusement rides in Florida are safe," she said. Agriculture Commissioner Wilton Simpson felt that the proposal didn't go far enough. "Where a person is injured should not determine how the state responds. Everyone should have to play by the same rules," he said.
Despite the good things about the proposal, it sets Florida back by decades. DeSantis isn't doing this out of a sense of responsibility towards his constituents, he's doing this in order to hurt queer people. He wants to send a loud message to corporations in Florida: If you oppose his homophobic laws, then he'll single your business out for big government regulation. Leave it to a Republican governor to turn a good proposal into something that stinks.
Already, there's been a lot of public discourse about whether or not this proposal will even be able to pass muster. As Twitter likes to say, they're beating your ass in the quote retweets. "If I were the governor of a state which depends on making a lot of theme park tourism revenue, I might not get out there and broadcast to the whole country the fact that none of our major theme parks are subject to ride safety laws," tweeted one out-of-state observer, who was not the first to recently learn that Florida amusement park rides are so unregulated. Others joked that big law firms are about to make a ton of money off suing DeSantis.
DeSantis is even taking Ls from other Republicans. Former New Jersey governor Chris Christie knocked the Florida governor for punishing a corporation. "I don't think Ron DeSantis is a conservative based on his actions towards Disney," he said in an interview with Semafor. "Where are we headed here now, that if you express disagreement in this country, the government is allowed to punish you? To me, that's what I always thought liberals did. And now all of a sudden here we are participating in this with a Republican governor."