Two years ago, a bonus mission in Sniper Elite V2 lets players intercept a Berlin-bound train and put a bullet in Hitler's head, deviating from the real world event where the Third Reich leader killed himself in an underground bunker. Apparently, that headshot from Sniper Elite V2 didn't take. When Sniper Elite 3…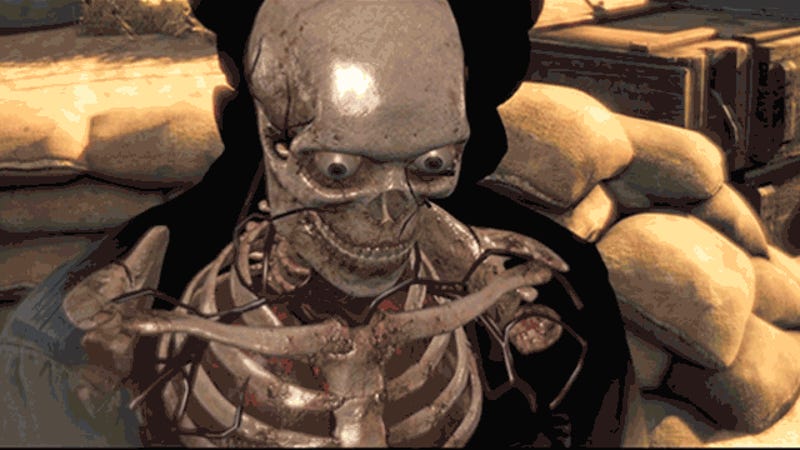 The darkly satisfying x-ray kill-cam from Rebellion's Sniper Elite V2 gave sharpshooting players a peek at bullets bursting through skin, bone and organs. Sniper Elite 3 adds two more layers to the mix.
The series "13 Ways to Die" just took up the subject of Sniper Elite v2 and, though we've seen exploding testicles and other grisly slow-motion demises already, they weren't presented in the form of a propaganda film from dubya-dubya-eye-eye, with a jaunty ragtime accompaniment. It's a cracking good morale booster…
Welcome to "Backhanded Box Quotes," a collection of super pissed-off user reviews from people just like you! Whoa, whoa, don't take that personal. This week's review of measured disappointment and constructive criticism includes condemnation for a widely admired brand in independent games development, and sympathy…
In April of 1945 the dictator of Nazi Germany took his own life in order to avoid capture by the Red Army during the Battle of Berlin. The move left millions feeling as if they were cheated out of an opportunity. The preorder bonus for Rebellion's Sniper Elite V2 gives customers a chance to make up for unspent bullets.