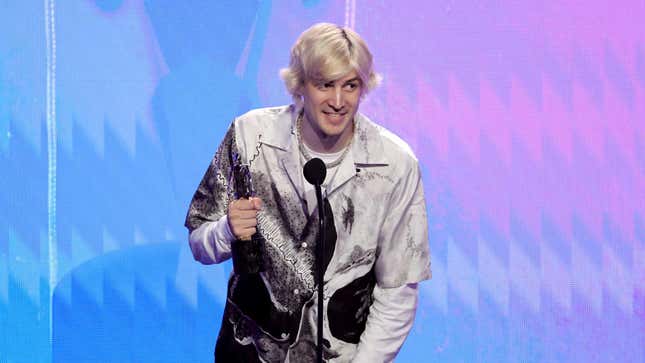 Twitch's biggest streamer, Félix "xQc" Lengyel, is signing with the company's newest rival, Kick, a streaming platform that offers better revenue splits and also appears to be centered around online gambling. The non-exclusive deal is valued at up to $100 million over two years, and is the latest and biggest blow to Twitch as creator discontent continues to mount.

Rooster Teeth's RWBY x Justice League Collab Puts Batman's New Anime Abilities To Good Use
As first reported by The New York Times, the agreement will pay out $35 million per year, with $30 million in additional incentives available if xQc hits certain benchmarks. As Dexerto points out, this would make it the 12th biggest annual payout in all of sports, putting xQc right ahead of Kevin Durant.
Kick is a streaming platform startup funded by online gambling companies including Easygo Gaming and Stake.com. Following Twitch's crackdown on gambling promotion last fall, the platform attracted big names like Adin Ross, BruceDropEmOff, and Trainwreckstv with its lax rules and 5/95 revenue split for creators. It's not yet clear if Kick is profitable or how it plans to become so, but it has managed to benefit from a backlash against Twitch as the Amazon-owned platform has sought to more aggressively monetize the people making content for it.
A "child of Twitch" raised in its often-toxic chat, xQc started in the world of League of Legends before moving on to Overwatch, briefly competing in Blizzard's Overwatch League before eventually being released from the Dallas Fuel after a series of suspensions for offensive comments. He pivoted to being a full-time content creator in 2018, with this mix of high-level play, unfiltered remarks, and an endless penchant for controversy turning him into Twitch's most-watched streamer by 2021.
By 2022, leaks revealed that xQc had earned $8 million from subscriptions on the platform. That same year, he lost $1.8 million in a single month from online gambling. While his contract with Kick doesn't preclude him from streaming on Twitch, the latter has a rule against simulcasting, making it unclear how much time, if any, xQc will still devote to the platform that helped turn him into a star in the first place.
"It's time," xQc tweeted on June 16, when his new partnership with Kick was announced. The post included a video promising his content would remain unchanged on the new platform. Directly below that was a retweet showing support for streamer Nickmercs, who'd recently come under fire for making anti-LGBTQ+ remarks.