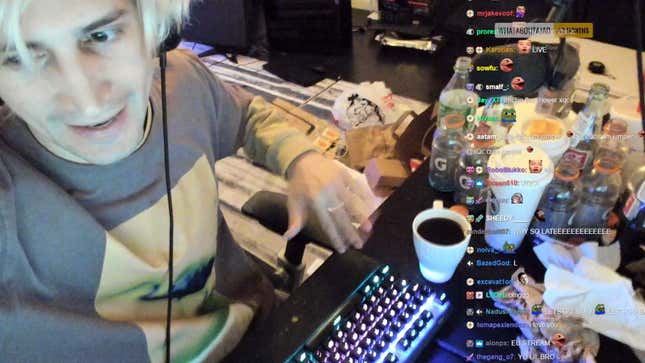 There are only so many hours in the day and when you're a capital-S streamer, most of them are dedicated to grinding battle pass levels in whatever new live-service game just dropped or reacting to all the latest internet drama to thousands of chatters. As such, there isn't always time to clean up after yourself, and you're left wading through the detritus of your own sloppiness like a pig in a pen. This is exactly the case for Twitch star Félix "xQc" Lengyel, who grossed viewers out in a recent livestream after showing how "disgusting" his messy, odd-smelling room has become.
Lego Star Wars: The Skywalker Saga's Air Combos Make Me Feel Skilled AF
Félix "xQc" Lengyel is a household name on Amazon's livestreaming platform. With over 11 million followers and more than 525 million total channel views, the former Overwatch League pro is often lauded as the King of Twitch. Whenever he goes live, xQc regularly pulls in upwards of 50-70,000 viewers during his multi-hour streams (though Avalanche Studios' Hogwarts Legacy recently saw him attract over 100,000 viewers). That's to say, xQc is one of Twitch's top-performing streamers, currently only being beaten out by rising star Kai Cenat who's doing a month-long livestreaming subscriber marathon. Anyway, when you're as active on Twitch as xQc is, apparently everything else takes a backseat, including your room's cleanliness.
Read More: Pokimane's Immaculate Room Tour Has Twitch Streamers Showing Off Their Messy Bedrooms
Frequent xQc viewers are already familiar with his habits. Often leaving crumpled wrappers and half-eaten food all over the place, xQc regularly gets dragged by the internet for "living like a college student getting a grocery allowance from mom," as one Redditor quoted in a July 2021 Kotaku story about messy streamer rooms put it. Well, xQc is again living up to that description. In a 17-hour livestream on February 15, xQc kicked off the broadcast by panning the camera to his trashed desk littered with empty Gatorade bottles, old Starbucks coffee cups, and lots of napkins.
"It's not even that bad," xQc said. "It's been like a couple of days. I don't like adding stuff here [right next to my keyboard]. The ground is bad, but it's not bad-bad. There's so much fucking, like, crusted-up [stuff] under my feet, it smells just…odd. It doesn't smell that bad. If it smelled bad I'd give a fuck, but it smells unidentified. Like, coffee, Coke, Sprite—when it mixes up together and it smells like one thing, it smells like fucking dog shit. But it's not a bad dog shit, it's like a weird one. It's just weird. It also just smells like chemicals."
These are the living conditions of Twitch's most-popular streamer. Folks in Dexerto's mentions, however, are confused about how anyone could put up with this. One Twitter user said "it's not that hard to buy a bin to put your rubbish in," suggesting that the platform's parent company, Amazon, sells one. Another joked that xQc's so rich he should just "get a maid." Even the official PowerWash Simulator account said it was coming to help out. Most everyone agrees, though, that xQc's room is "disgusting."
Kotaku reached out to xQc for comment.
While Amazon's livestreaming platform often incentives broadcasters to stream for ungodly amounts of time to make the revenue worth the effort, it probably couldn't hurt xQc to take a moment or two to clean up a little bit. Everyone's got to get their bag, but no one wants it to smell like garbage.