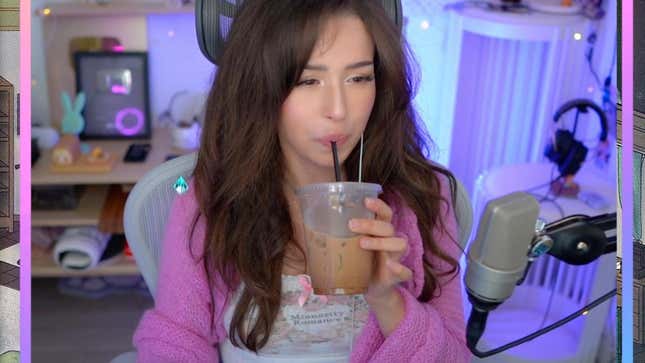 Imane "Pokimane" Anys would never stream on rising platform Kick, which already lured big names xQc and Amouranth away from Twitch with high profile contracts.
Rooster Teeth's RWBY x Justice League Collab Puts Batman's New Anime Abilities To Good Use
Read More: Amouranth Follows xQc's Lead And Leaves Twitch

Anys wouldn't even do it for $10 million, a tenth of what xQc was offered for more than two years of non-exclusive, benchmark-achieving streams on Kick. She told viewers on a June 20 stream that accepting that kind of money from the site would "compromise [her] morals and ethics."

"Something about [sacrificing values for more money] is so cringe, to me, personally," she continued. "For me to do cringe shit when I have money—I can't. Like, ew. [...] It's almost embarrassing."

In the few months that Kick has existed, the gaming and lifestyle-focused stream site has drawn plenty of skepticism for its co-founder Ed Craven's ties to betting and cryptocurrency. Unlike Twitch, which controversially began cracking down on gambling streams—including by banning Craven's other site, Stake.com—in 2022, Kick leaves gambling site streams up to local laws.

"Kick.com is a sham," former Twitch Director of Creator Development Marcus Graham said in a 2022 Twitter thread. "I'm indifferent to gambling and have no problem if Stake wants its own platform to do what it now can't on Twitch. But it's bad form to 'kick off' a creator-first platform, while hiding an agenda."

Amazon-owned Twitch, with its hostile 50/50 revenue split (though some larger creators have the opportunity to earn more) and poor communication is no angel, either. Anys herself has slowed down her streaming on the platform in pursuit of more time offline and on less demanding social media sites, like TikTok, where she posts short videos on makeup and fashion.

"I hope—especially smaller streamers—make good money off of whatever's happening on Kick," she said in her June 20 stream. Then later, she explains, "x[Qc], for example, he's been gambling, he's been about it, so it makes more sense for him [to stream on Kick]. But, for me, it [...] looks desperate."

"I would rather make $0 and keep my dignity," Anys continued.

Though Anys, who has publicly been in favor of Twitch's gambling bans, stressed that she was discussing what a Kick switch might look like for her, not other creators, that hasn't stopped them from reacting.
"Are you for inhumane conditions for working, and no union, and all of that?" xQc asked Anys on a June 21 "debate" stream. "Is that where your morals land?"

"What is this whataboutism?" she responded.

"Huh?" xQc said.

Amouranth also weighed in on a recent Kick stream, reacting to xQc's debate.

"[Twitch has] to be encouraging her to say this shit, because this is just, like, mind-numbing," she said.

Kotaku reached out to Pokimane, xQc, and Amouranth for comment.