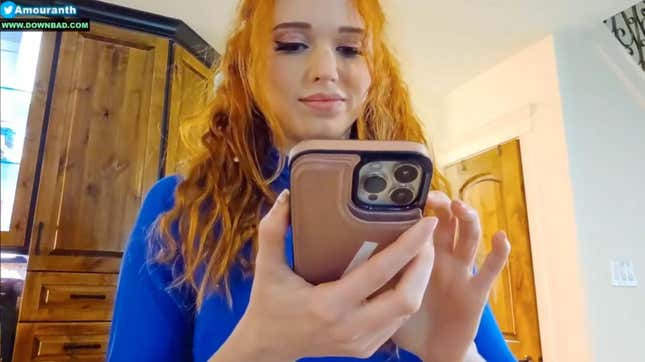 Kaitlyn Siragusa—you'll recognize her as variety streamer Amouranth—is staking a new claim on livestreaming platform Kick, despite having 6.4 million Twitch followers. Like other streamers fed up with poorly communicated changes around stringent monetization rules and an uncomfortable, confusing 50/50 revenue split on Twitch, she's willing to take a risk on the unestablished, but potentially more lucrative, streaming site Kick.
Lego Star Wars: The Skywalker Saga's Air Combos Make Me Feel Skilled AF
Amouranth made the announcement in a wry teaser trailer posted to Twitter on June 17. In the video, she stumbles on a New York Times article describing xQc's recent $100 million deal with Kick, and calls her agent to request the same. A link to the brand new Amouranth Kick page appears at the end of the video, accompanied by an ominous orchestral swell.

Read More: Twitch Mega Streamer xQc Signed By Gambling Company For $100 Million
What is Kick?
Kick is a streaming platform geared mostly to lifestyle and gaming content creators. But, in the infancy of its existence, it's hard to say if it will succeed in usurping Twitch.

The platform is under a year old, created by betting and crypto gaming magnate Ed Craven. Kick is not unrelated to those other capricious ventures—its high-profile deal with self-described gambling addict xQc suggests as much—though it's withdrawn about how, exactly, it's related.
All its community guidelines say is that "gambling on Kick with other users is strictly prohibited," but any other restrictions are dependent "on the laws and regulations of the country you are located."
Twitch notoriously cracked down on gambling sites in 2022, and currently prevents users from sharing "links or affiliate codes to sites that contain slots, roulette, or dice games." Twitch has also toyed with some incredibly unpopular changes recently, like its floated change to branded content that would have prevented streamers from using the pre-recorded ads they rely on for revenue.

What are the details of Amouranth's Kick contract?
"Twitch's 'sin' isn't trying to squeeze their creators," Amouranth wrote in a June 19 Twitter thread.

"Their sin is making a business model that doesn't succeed except maybe at YouTube scale. [...] Taking an incremental share of streamer earnings is ham-fisted, and you can't cut your way to profitability that way."

Though there have been whispers that Amouranth's Kick deal was $30 million, that rumor's origin seems to be a meme Twitter account. She hasn't yet shared any details of the deal, so it's unclear if she will continue to stream on Twitch in any capacity in the future. The deal between Kick and xQc allows him to stream on other platforms, but as of the time of publication, Amouranth's upcoming Twitch schedule is blank. Kotaku reached out for comment.
Update 06/20/23 at 11:45 a.m. ET: Updated to clarify Amouranth's status on Twitch.