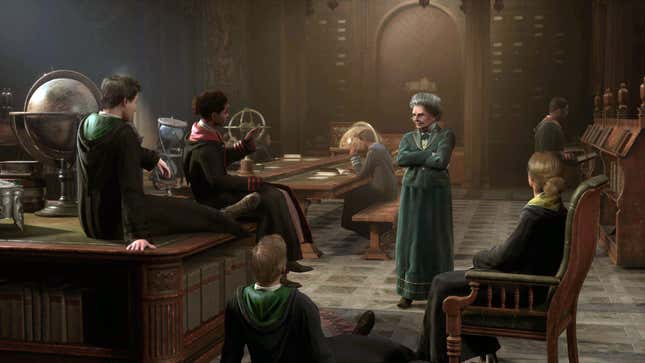 Hogwarts Legacy is officially out on Friday for current-gen consoles and later this year for last-gen consoles and the Nintendo Switch, but those who splurged on the Deluxe Edition got early access starting on February 7. And the game is already garnering a massive audience on Twitch. In fact, the open-world Harry Potter RPG is Twitch's most popular game at the moment.
Hogwarts Legacy Launches With Millions Of Viewers Watching
Developed by Warner Bros. Interactive Entertainment subsidiary Avalanche Software, Hogwarts Legacy is set in the wizarding world of Harry Potter during the 1800s. You play as a fifth-year transfer student who has an affinity for ancient magic and must use this skill set to prevent a rising goblin rebellion. Considering the period, you won't kick it with Harry Potter and friends. Instead, you'll create your own witch or wizard and embark on various open-world activities, including brewing potions and harvesting plants. You can also learn unforgivable curses if you really want to be a bad magic user, though the game won't judge you for using them. At any rate, this is an open-world Harry Potter RPG, so no matter the judgement, whether that's from the game or the community, it was bound to be popular.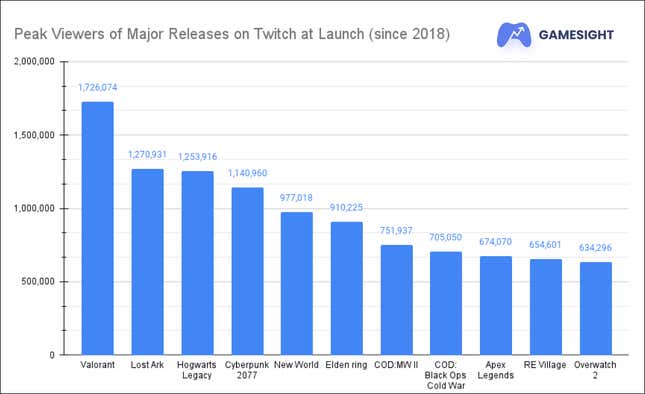 Read More: Hogwarts Legacy Transphobia Controversy Fuels Reddit Drama

And it absolutely is. According to the data analytics site TwitchTracker, Hogwarts Legacy had a peak concurrent viewership of over 1.2 million between February 6 and 7. The game's ranked sixth overall on the site, with more than 16 million hours watched in the last few days. Looking at Twitch right now, Hogwarts Legacy is the most popular game in the livestreaming platform's Browse section, beating out the Just Chatting category with 636,000 viewers and counting. At one point this week, Félix "xQc" Lengyel, one of Twitch's most well-known broadcasters, streamed it to over 100,000 live viewers. xQc's video-on-demand (VOD), an archived recording of a past livestream, also garnered 5.7 million total views. In short, Hogwarts Legacy is now more popular than Cyberpunk 2077 and Elden Ring at the peak of their launches. The numbers here are wild.
G/O Media may get a commission
Save all week long
Discover Samsung Event Week-Long Deals
Streamers Grapple With Covering Hogwarts Legacy
Just as Hogwarts Legacy is gaining traction online, so too is the heated discourse around financially supporting Harry Potter author and blatant transphobe J.K. Rowling. Twitch streamers, in particular, seem to be having a hard time covering it, with some opting to boycott the game entirely while others, including xQc, defend folks who choose to stream the game. People, such as gaming couple Girlfriend Reviews, have reportedly been criticized over their choice to stream the game. Then you have a few folks, like socialist political commentator Hasan "Hasanabi" Piker, staying away from the game because it's "not worth" getting bullied over. And one Twitter user created a watchdog website that apparently puts whichever streamer currently playing the game on blast, though when Kotaku tried viewing the site, we were met with a brief message saying the service has been "suspended."
Read More: PS5 Subreddit Doesn't Want Players To Bring Up Harry Potter Author
There's nothing inherently wrong with having an interest in a franchise that shaped your formative years or whatever, though it's also understandable that some trans people may see the choice to play it as prioritizing a childhood fantasy over standing with trans people, especially since Rowling not only vocally spreads her anti-trans ideology but admits to financially supporting such policies. Of course, the best and most important action any of us can take is lobbying for pro-trans issues at the ballot box, especially as there are a plethora of anti-trans bills in various state legislatures attempting to condemn and erase the community. This is the real conversation we need to have.
Hogwarts Legacy was bound to be popular no matter how the discourse shook out. I mean, it was one of the most pre-ordered Steam games according to the software and hardware sales tracker VGChartz. And with solid scores across review aggregators Metacritic and Open Critic, it appears that while the debate about it rages on, Hogwarts Legacy may be the biggest release of 2023 so far.