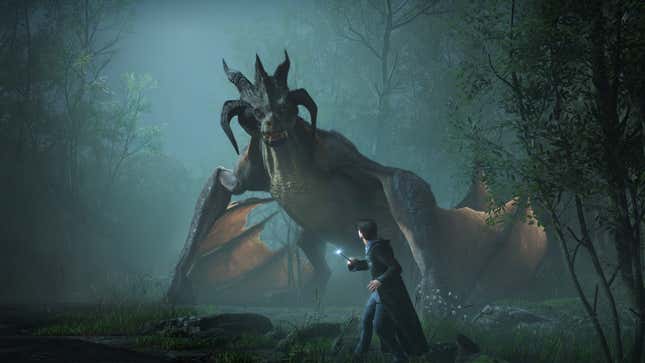 Hogwarts Legacy drops on February 10 for PC, PlayStation 5, and Xbox Series S/X, with ports coming to the Nintendo Switch and last-gen consoles later this year. However, if you were hoping to discuss the context surrounding the action RPG—that is, Harry Potter author J.K. Rowling and her damaging transphobic rhetoric—on the official PS5 subreddit, well, you're out of luck there.
This Series Asks What If Harry Potter Couldn't Do Magic, Was Swole
Read More: Hogwarts Legacy Transphobia Controversy Fuels Reddit Drama
Developed by Avalanche Software (not to be confused with Just Cause 4 creators Avalanche Studios), Hogwarts Legacy is the imminent wizarding action RPG set in the famed Harry Potter universe. If you've spent any time on the internet recently, you'll likely have seen discourse on the game just about everywhere, with folks wrestling with both how to cover the game and whether playing it makes you transphobic or not. Discussion of Hogwarts Legacy can often lead to heated debates. As a direct response to this, the PS5 subreddit will prohibit any discussions of Rowling and her views when talking about the game.
The subreddit's mod team wrote a lengthy post about why discourse around Rowling and anything unrelated to Hogwarts Legacy gameplay specifically has been banned. Citing the "hostile and transphobic responses" that have made the community "incapable of discussing" various opinions "with anything approaching civility," the moderators have decided enough is enough.
"Therefore, we're taking the unfortunate—but what we feel as necessary—step of banning any and all discussion of J.K. Rowling and related topics in posts concerning Hogwarts Legacy," the subreddit's mods said in the post. "Next week is going to see a surge in content relating to this game as we see the lifting of the review embargo, the early-access preorder launch, and the official game launch; we view a complete shutdown of non-game-related discussion as the only means by which we can allow discussion of this game to go forward, while safeguarding the respect and dignity of all [the] members of our community as best we can."
It appears as though folks in r/PS5 can talk about Hogwarts Legacy as a product, criticizing it on the merits of its gameplay and plot themes alone. But any discussions not explicitly connected to the game—like, say, how Rowling will still financially benefit from any Harry Potter-adjacent sales or the various controversies she constantly finds herself wrapped up in whenever she speaks—will likely get removed as AutoModerator is now in "overdrive." Basically, Rowling has become She-Who-Must-Not-Be-Named in r/PS5, much like the series' main antagonist Lord Voldemort.
Kotaku reached out to WB Games and the moderators for comment.
Read More: Hogwarts Legacy Doesn't Care If You Use Unforgivable Curses
The PS5 subreddit's mods ended the post saying "trans rights are human rights," which is the correct and only take to have here. If you're excited to play Hogwarts Legacy, that's totally fine and no one should be harassed for their desire to play the game. However, we can't ignore the author's continued benefiting off the back of a series loved the world over by the queer community when that author actively hates trans people.