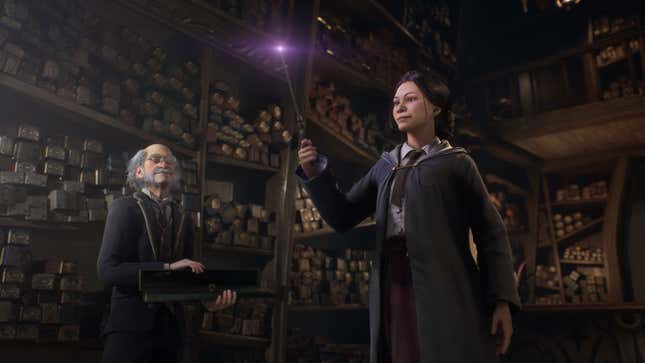 Warner Bros.' big Harry Potter game is just around the corner and it's continuing to sound very weird in some very specific ways. According to a new developer interview, Hogwarts Legacy won't judge you if you want to go do some crimes, whether that's blowing people up or going full Voldemort and deploying a bevy of unforgivable curses.
This Series Asks What If Harry Potter Couldn't Do Magic, Was Swole
A bunch of previews for the game dropped today ahead of its February 10 launch, and one over at Gamesradar discussed the game's amorality at some length. Editor-in-chief Sam Loveridge described a section of the game where you can choose to take on dragon poachers via stealth or straight offense, one in which she accidently launched an explosive barrel into the enemy camp, blowing them up along with a nearby bridge. This conventional "play it your way" approach will apparently include few consequences, however.
"It was important for us to give players who sought out to be a Dark Witch or Wizard an opportunity to do so," lead designer, Kelly Murphy, told Gamesradar. "This is the ultimate embodiment of role-playing; allowing the player to be evil. Additionally, this was important because it comes from a place of non-judgement by the game creators. If you want to be evil, be evil."
This extends even to the game's unforgivable curses, which in the strict morality system of the Harry Potter books warrant life sentences in prison. On the few occasions when the titular hero uses them, it's generally portrayed as a last resort and a breach of ethical boundaries. That was apparently too puritanical for Hogwarts Legacy.
"Characters will react visually and audibly to seeing the player cast an Unforgivable, but we don't have a morality system that punishes them for doing so – this would be too judgemental on the game maker's part," Murphy told Gamesradar. "But, should the player continue these actions, the world will reflect back knowledge of them."
I'll be the first to admit that rote morality meters in games can be unimaginative and a real drag. But having clear consequences for the choices you make, like whether to blow up poachers or murder a goblin, seems like the bare minimum for a player-fantasy centered around attending a school to become a powerful wizard.
It's also hard not to see parallels between the stated non-judginess of the game and the larger controversy surrounding Hogwarts Legacy's connection to transphobic author J.K. Rowling. Like many others crying wolf about cancel culture, she embodies the contradiction of someone who wants to promote shitty views while also not facing any consequences for them.
Publisher Warner Bros. and studio Avalanche Software have tried to distance themselves from the ethical debate around buying or boycotting the game. It sounds like that cowardice might trickle down into Hogwarts Legacy's world building as well. We'll know better when the game finally comes out a few weeks from now.