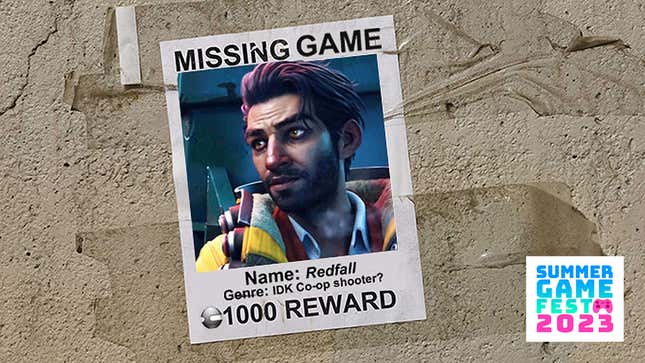 Microsoft's 2023 Xbox Showcase was filled with a ton of cool games and a deep-dive into Starfield, the platform's biggest blockbuster in a long time. What it didn't include was any mention of Redfall, the multiplayer vampire shooter that came to Game Pass a month ago and promptly bombed.

Thank You, PS Plus, For Making My Backlog Even Bigger
While it's understandable the tech giant wouldn't want to rain on its own parade by showcasing the critically-panned online multiplayer game, it wouldn't have been completely shocking for Microsoft Gaming CEO Phil Spencer to mention the frustrating launch in passing and remind players that patches and content updates are still on the way. It's an open question whether Redfall will attempt to turn itself around, much like other live service games have, and the showcase would have been a good opportunity to reaffirm the company's commitment to bolstering the game.
Still playing Redfall?
If you're a fan of Arkane's shooter and still chasing collectibles, grinding out loot, and killing vampires with friends, I want to hear from you. Please tell me about your experiences and what keeps you coming back at ethan.gach@kotaku.com.
Most notably, Redfall is still due to receive a 60fps update for Xbox Series X/S, a technical benchmark people expect of modern games with good graphics. At launch, the game only ran at the preferred framerate on PC, despite previously promoting footage of it running at 60fps. A month out from release, we still don't have any sense of the timeline for when it will arrive.

That update alone wouldn't drastically change the overall quality or sense of emptiness in the game, but it would be a first step down the road of making good on some earlier promises. According to a recent Bloomberg report, Redfall's troubles were well understood within the development team at Arkane Austin, with some even hoping Microsoft might cancel it after acquiring Bethesda Software in 2021. At the very least, some developers apparently hoped the company would throw more bodies and resources behind the game's production. Instead, 70 percent of Arkane Austin staff who had worked on Prey left the studio by the time Redfall launched.
Read More: Nothing Xbox Does Matters If The Games Aren't Good
Following the game's launch, Spencer said in a live interview that he was personally upset with himself over the disappointing response to Redfall, saying that its internal mock reviews had been tracking over double digits higher than its eventual 56 Metacritic score. Always one to run towards problems and criticisms from Xbox fans, Spencer was candid about needing to do things differently to avoid another Redfall situation in the future, though he also said he would continue defending studios' freedom to pursue new creative visions rather than just sling sequels to existing franchises.
Plenty of other games have released in rough shape and later rehabilitated using the ease of access allowed by Game Pass. Sea of Thieves and Fallout 76 are two of the most obvious examples, both of which teased new content updates at Microsoft's showcase. We'll see if Redfall appears at next year's event or is quietly forgotten.
---
Kotaku is covering everything Summer Game Fest, from the main show on Thursday to other events happening throughout the next week. Whether you're into larger-than-life triple-A games or intimate, offbeat indies, you can keep up with all things SGF here.