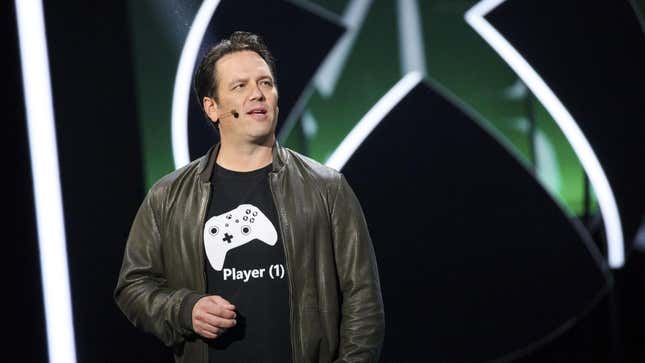 Microsoft Gaming CEO Phil Spencer was contrite following the overwhelmingly negative response to Redfall this week. In a new interview with the Xbox podcast Xcast, the executive confessed to being disappointed with some quality issues and the critical reception of Arkane's vampire shooter this week.

Thank You, PS Plus, For Making My Backlog Even Bigger
"There's nothing more difficult for me than disappointing the Xbox community," he said. "Just to kind of watch the community lose confidence, be disappointed, I'm disappointed, I'm upset with myself."

Redfall made headlines this week for its exceptionally poor review scores and went viral in social media posts displaying strange bugs and performance issues. It was not what fans were expecting for Microsoft's first $70 Xbox Series X/S game or Arkane Austin, the acclaimed Bethesda studio behind the beloved immersive sims Dishonored: Death of the Outsider and Prey.
When asked about the negative reviews and questionable state the game was released in, Spencer responded at length:
I think back to the announcement of 60fps and then we weren't shipping 60fps that was kind of our punch in the chin rightfully a couple weeks ago and then seeing the game come out and the critical response was not what we wanted—it's disappointing so kind of pick myself up what can we learn, how can we get better.

One thing I'll fight is sort of what went wrong, there's clearly quality and execution things we can do but one thing I won't do is push against creative aspirations of our teams I know a lot of people will say hey you've got teams, teams know how to do one kind of game just force them to go do the one kind of game they have a proven track record for and I'm just not a believe in that maybe that means I'll under deliver for some of our fans out there but when a team like Rare wants to do Sea of Thieves when a team like Obsidian wants to do Grounded, and Tango wants to go do Hi-Fi when everyone probably thought they were doing The Evil Within 3.

I want to give the teams the creative platform to go an push their ability, push their aspirations but I also need to have a great selection of games that are continue to come that surprise and delight our fans and we under-delivered on that and for that I apologize it's not what I expect, what I want but it's ours to deliver.
Read More: Xbox Is Running Out Of Time To Get It Right
Microsoft had an especially quiet 2022 when it came to big first-party exclusives. Starfield was originally set to arrive in November, but was eventually delayed, leading to an exceptionally poor holiday season for the platform. Game Pass has been one of the silver linings for Xbox Series X/S owners, providing cheap access to tons of great smaller or older games.
Still, subscriber numbers for the Netflix-like library have reportedly plateaued, seemingly in part because of the lack of big blockbuster games hitting the service day-and-date. Redfall was supposed to mark the end of a year-long drought following Halo Infinite, but instead seems to just be another mirage as players wait for missing features and improvements to get patched in, and for Starfield to finally arrive sometime later this year.
Should Redfall have been delayed as some have now suggested? Spencer drew a distinction between criticism's of the game's level of polish versus its underlying gameplay and design. "There are quality issues and we're working on those, but a fundamental piece of feedback I get is that the game isn't realizing the creative vision that it had for its players," Spencer said. "That doesn't fell like a, 'hey, just delay it', that feels like the game had a goal to do one thing and when players are actually playing they're not feeling that."
The Microsoft exec went on to say that the final review scores and current Metacritic average of 62 was off from the company's internal mock review scores by double digits. He didn't mention whether he personally demoed the game during development, or what he thinks of it now that he's out.
In the meantime, Spencer said Microsoft and Arkane remain committed to Redfall and are working on shipping updates to address bugs and add features like the previously promised 60fps performance mode. "I also know that these games are $70 and I'm gonna take full responsibility for launching a game that needs to be great," he said.
Update 5/4/2023 11:52 a.m. ET: Added more quotes and context from the interview.
Update 5/6/2023 6:32 a.m. ET: Fixed an error in the final quote.