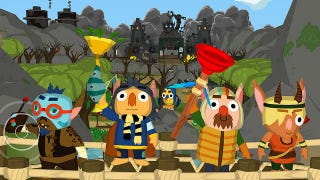 Okabu knows it's not easy being green, but they sure do make it look appealing.
If you play the Nintendo DS puzzle game Picross 3D long enough, you unearth some advice about how to be more eco-friendly. But the advice is a little weird. Have a look.
The TIE Fighter-Wing looking "green" game cases have been out for Xbox 360 since most November releases. Go Nintendo has an image of what they'll look like for Wii games, beginning with Final Fantasy Crystal Chronicles: The Crystal Bearers.
Showing continued support for the older model despite the impending release of the PSP Go, Sony has announced two new colors for the PSP-3000: Blossom Pink and Turquoise Green. Behold their beauty.