Xbox 360 owners who have recently invested in holiday season hits like Modern Warfare 2, Assassin's Creed II, Brutal Legend or Left 4 Dead 2 may have noticed a change in their game cases. Meet the Eco-box, gamer.
The lighter, thinner cases from manufacturer Viva Group are becoming the new Xbox 360 game case standard. And don't be surprised to see Nintendo and Sony follow suit, as game cases use less material, reduce their shipping weight and conserve resources.
The move is in part driven by a "Packaging Scorecard" issued by mega-retailer Walmart, an initiative it announced three years ago. The goal, according to the company, was to reduce packaging by 5 percent by 2013, with much of that responsibility shouldered by Walmart's suppliers.
New packaging plans from Microsoft and Nintendo already exceed requirements, dropping the weight of video game cases by 20 percent or more.
Kyle Sheppard, manager of business development at Viva Group, tells IGN that the new cases offer "marginal" cost savings to console manufacturers, with reduction in materials and carbon dioxide emissions the draw.
G/O Media may get a commission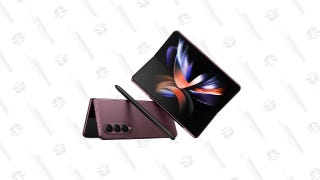 Save Up to $300
Galaxy Z Fold4
Nintendo of America told Kotaku that it is transitioning to "a new weight-reduced, recyclable case for all Wii software packaging, effective immediately." Wii games should be shipping with lighter packaging this quarter, with conversion to new game cases expected by early 2010.
"Nintendo's new software cases weigh just 48.9 grams, down from 66.2 grams," a spokesperson said. "That's a reduction of more than 25 percent. The new cases are 100 percent recyclable, and the lighter cases result in a 'greener' product, as they use fewer resources to produce and recycle."
That transition applies to Nintendo's first-party products currently, with third-party publishers expected to follow suit.
"We encourage it, and are trying to make it as easy as possible for them to make the switch," Nintendo reps said. "So far, there are two manufactures that Nintendo has already authorized to make the new lightweight software cases for our licensees. And if licensees come to us with a new manufacturer that they want to use, we will work with them on that process as well."
Microsoft did not offer comment on its decision to switch to the new cases, but pointed out that it has regularly reduced the amount of material used in its game packaging.
Sony Computer Entertainment America reps would not confirm that it would be adopting the Viva Group's new case design, which already has a Blu-ray disc-sized variant.
"We're always looking at streamlining our solutions and evaluating our product case designs to be environmentally friendly, but we have nothing to announce regarding redesigning our cases at this point in time," a Sony spokesperson said.
While the change may satisfy big box retailers like Walmart and improve the bottom line and 'green' scores of video game publishers, it hasn't been met with much enthusiasm on video game forums and web sites. But Nintendo of America says its decision to make the change was largely environmentally driven.
"Nintendo is always looking to make our products more ecologically friendly, and had taken action already in other areas such as making our peripheral accessory packaging using corrugated cardboard instead of plastic 'clamshells,'" Nintendo said. "We are always looking for ways to improve our manufacturing process, and as technology evolves and new techniques and practices become available, then we research the possibilities and make a move if it makes sense. The time is right now for NOA to make the move to lighter software cases."