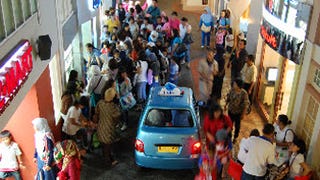 Last week Cammie Dunaway left the gaming industry after three years as Nintendo's executive vice president of sales and marketing. Where is Cammie going? She's taken on a role that will generate countless jobs for children 13 and under.
Former Mythic Entertainment head Mark Jacobs sheds a little light on the circumstances surrounding his departure from the EA-owned MMO developer in a farewell post on his personal blog.
Paramount Digital Entertainment today announces the appointment of former Eidos vice president of product development John Kavanagh to the position of Senior Vice President of video games.
Following the resignation of former chairman Peter C Brown, struggling Midway Games appoints president and CEO Matthew Booty as their new chairman of the board.
Earlier this year, Midway's CEO David F. Zucker resigned from his position, with the company appointing an interim CEO in his place. Well that interim President and CEO is now the full-time President and CEO as Midway confirms Mr. Matthew V. Booty as their fearless leader. Congratulations, Mr. Booty! You've shown…