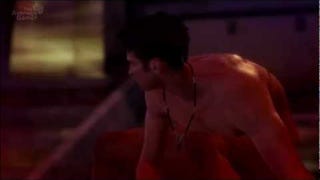 I've been enjoying DmC: Devil May Cry, Ninja Theory's reboot of Capcom's violent, venerable dude-juggling series. Evan likes it, too.
The DMC: Devil May Cry trailer from E3 showed a hack-and-slash action game set in a dark world where demons/devils control society through media and products. In the game, the main character, Dante, joins forces with an Anonymous-like group called The Order to fight against the demonic rulers. Anyone who played the…
This new trailer for Marvel Vs. Capcom 3: Fate of Two Worlds is a lot like the first one, with two major differences - Dante and Deadpool.
These fireworks were spotted by Kotakuite rrockshow182 in Missouri, and it looks like Dante is moonlighting as a firecracker model. Lucky him. rrockshow182 asks: "Think capcom will cut me in on the lawsuit?" Dunno! But even fireworks makers should know that if you play with fire, you get burned (and shit starts…