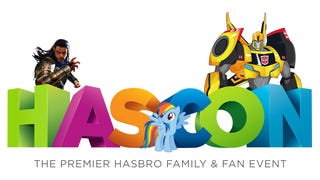 Hasbro is starting its own fan convention next year. The toy and game company behind everything from Dungeons & Dragons to My Little Pony will hold the first Hascon in Providence, Rhode Island September 8-10. It sounds like heaven. Find out more here.
Two weeks ago, at EVE Fanfest, a convention for players of space MMO EVE Online, I began hearing odd snatches of conversation: "Dude, the pope's in our hotel", "Did you kiss the ring?". This is at the same time as the real pope is out in Greece meeting with refugees, so, clearly, we're talking about a different pope.
Blizzcon 2016 is taking place at the Anaheim Convention Center in California on November 4 and 5. The $199 tickets will be sold in two batches on April 20 and 23. If you get one, you're made of magic.
BlizzCon 2013 tickets go on sale briefly on Wednesday, April 24, followed by another equally brief sale on Sunday, April 27. Chances are you won't get any, but we're rooting for you.
Kanye West isn't the only musician performing at the first-ever Call of Duty convention, Irish-punk rockers Dropkick Murphys will be closing the first night of the show, Activision said today.
Activision sweetens the pot for fans considering attending the first-ever Call of Duty XP convention in Los Angeles next month, revealing additional details on what fans can expect to get out of the show, including a free copy of the Modern Warfare 3 Hardened Edition.
Next weekend in Miami you can enjoy live music, tournaments, world record competitions, special guests, a costume contest, and a video game museum at Infinite Bits, South Florida's "first major video game convention."
Games Convention in Leipzig isn't all about having fun, cosplaying, and trying out upcoming video games. There are also plenty of traumatic events going on as well, such as the poor folks at SouthPeak Games, who came to the show this morning to let people sample their fine DS lineup only to find that all of their DS…
The official schedule for Penny Arcade Expo hit the PAX forums over the weekend. The fairly chunky schedule includes a nice cross-section of the gaming industry and the folks who cover it. Some of the highlights I noticed, from my quick perusal, includes: Ken Levine's keynote EndWar, Prince of Persia, Far Cry 2,…
With an aging gaming population comes more gamers with money, which means ... money to spend on travel. Bonnie Ruberg takes a look at where gamers would go given $1,500 for expenses for a 'game-related' vacation. PAX? E For All? Tokyo Game Show? ... Disneyland? I can't remember the last proper vacation I had, but I…