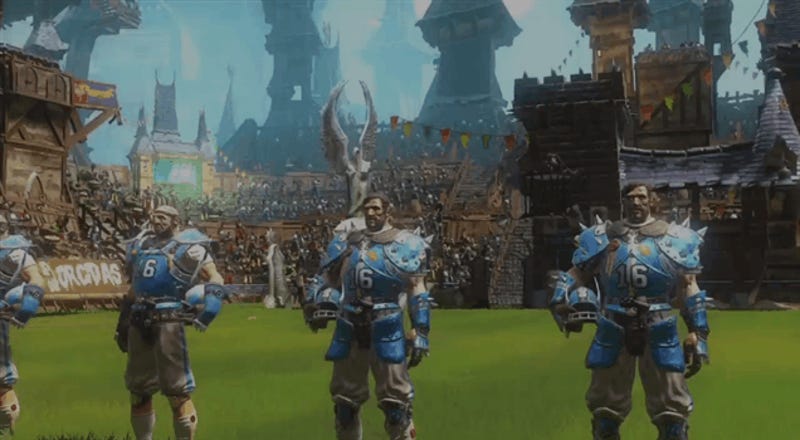 The new Blood Bowl 2 trailer features footage of an Orcs versus Humans game:
The PC adaptation of the Games Workshop board game that put the fantasy in fantasy football is getting a free dose of hot Dark Elf action next month.
After a bit of legal wrangling over Cyanide's last fantasy football release, Chaos League, the developer and Games Workshop settled their differences, and Blood Bowl here is the result of their newfound friendship. The game features eight teams of fantasy football players - humans, orcs, dwarves, lizardmen, skaven,…
Cyanide Studios' video game version of the classic tabletop fantasy football game Blood Bowl has a brand new website chock full of game information, along with a sign-up page for the multiplayer PC beta test.
Rounding out a week filled with Blood Bowl team teases, Cyanide finally releases the full trailer for their video game adaptation of the classic Games Workshop fantasy football strategy board game Blood Bowl, and it looks simply glorious. Being able to customize your team and then play through an entire season either…
Rats and lizards, living together, playing football. The giant, tough-as-nails Lizardmen might have the strength advantage, but no one can out-manuever the wily Skaven. Each new trailer makes me a little more excited about this adaptation of the Games Workshop board game classic for the Nintendo DS, PSP, and Xbox 360,…
Blood Bowl is the second adaptation of the classic Games Workshop fantasy football board game, pitting the creatures of myth and legend against each other on the gridiron battlefield. Today's clip shows the forces of Chaos taking on humanity, and despite my own particular species, I'm not all that sure who I am…
When I say fantasy football, I don't mean drafting real players to your dream team with the guys at the office. I mean dwarves versus goblins in a bloody fight to the finish. As you can see, the goblins are the kind of team that cares only about winning, no matter how many lives it takes to get the touchdown. My kind…
This is how you skirt the NFL license, folks. Ogres, orcs, dwarves and humans settling their differences on the gridiron, an emphasis on violence, and cheerleaders that look Ren Faire appropriate. Blood Bowl may represent most of what I forcibly reject in my games — medieval fantasy, a turn-based dice game foundation,…