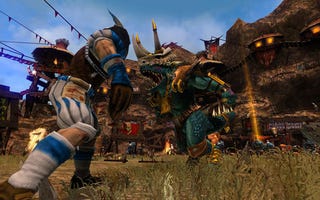 Cyanide Studios' Blood Bowl scores a retail release next year courtesy of SouthPeak Interactive, carrying the video game adaptation of Games Workshop's fantasy football board game to the Xbox 360, PC, and PlayStation Portable.
Blood Bowl is a game of real fantasy football, with races from the Warhammer universe taking on each other in brutal football action. The game is already available for digital download on the PC, but we've been waiting for word of the Xbox 360 and PSP release for quite some time. Now the waiting is over.
"We're thrilled to have a part in bringing a proper retail version of Blood Bowl to North American gamers on Windows PC, Xbox 360 and PSP." said Aubrey Norris, Manager of Human-Orc Relations at SouthPeak. "It's never easy to get all these races to agree on something – but if there's one thing they love its good competition with a lot of bloodshed!"
The PC and Xbox 360 version will be hitting store shelves next month, with the portable version dropping sometime this spring.