"When is a cosplay not a cosplay?" queried the Mad Hatter, sipping lukewarm tea from a cracked and leaking cup. "When it's pay-per-use stock photography that someone put up for sale in case someone felt a pressing need for shots of a woman dressed as the lead character from American McGee's Alice: Madness Returns?" I…
With ten-year-plus gap between the new Alice: Madness Returns and its predecessor, American McGee's Alice, maybe you could use a little refresher on what's been going on in Wonderland and in Alice's head. Good news? There's an app for that.
Confirming reports earlier this week from the man himself, American McGee's Alice brings its insanity to the Xbox 360 and PlayStation 3, with code for a free download packed inside every copy of its sequel, Alice: Madness Returns.
Perhaps you're interested in playing the new fantasy adventure Alice: Madness Returns, but have never enjoyed the 11-year-old PC original. Worry not, for it appears that the first game, American McGee's Alice is coming to consoles as a downloadable game as well.
A decade on from American McGee's Alice, a stylishly gothic and twisted interpretation of Lewis Carroll's Wonderland, gamers are given the opportunity to return to this twisted world with Alice: Madness Returns. It's not crazy to delight in that not much has changed over the past decade for Alice, is it?
After what magic The Witcher worked with its book-to-video-game adaptation, I'm really looking forward to what Metro 2033 comes up with. Even though I think that "book" was more of a blog to begin with.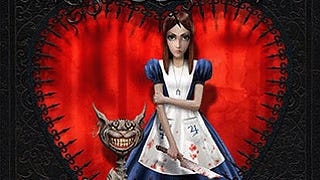 Talking at DICE 2009, Electronic Arts John Riccitiello announced that there would be another Alice game coming from American McGee to the PC and consoles.