'Twas the week for console news. Modern Warfare 2 and ODST are both doing 360 bundles, MW2's with a super-size drive. The PS3's 250 gig flavor continues to tease from overseas. And the Wii might be in for a haircut.
Elsewhere, Crecente reviewed Scribblenauts and WET; Totilo spent some quality time with Assassin's Creed 2's creative director, and everyone is gearing up for Tokyo Game Show. The week that was in Kotaku original programming:
Previews, Reviews, Impressions and Hands-On
WET Review: Swords, Guns and Flawed Fun
Marvel Ultimate Alliance 2 Review: It Takes Two, Baby
Operation Flashpoint: Dragon Rising Multiplayer Preview: War Is Hell. And Mostly Colorless.
Frankenreview: Scribblenauts
Trine Micro-Review: The Fat Knight
GTA IV: The Ballad of Gay Tony Preview: Crimes For The Crazy Rich
Modern Warfare 2 Multiplayer Hands-On Impressions: No Buzzkills
Scribblenauts Review: Embrace Your Inner Geek
Mario & Luigi: Bowser's Inside Story Review: A Fawful Good Time
The Warriors: Street Brawl Preview: Go Home To Play
Ratchet & Clank Future: A Crack In Time Preview: Floor Of The Year
Console Price Drops and Bundles
Europe Getting Four More Bundles For The 250GB PS3
Microsoft Releasing 250GB Xbox 360 For Modern Warfare 2 [Update]
Toys R Us Ad Points To $199 Wii Price Drop This Month
Halo 3: ODST Gets A 360 Bundle
G/O Media may get a commission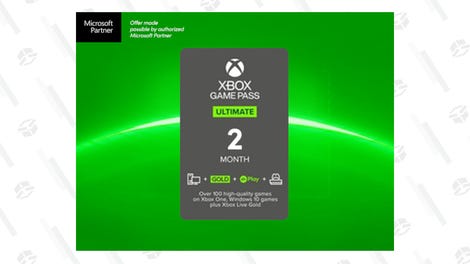 70% Off
Xbox Game Pass Ultimate Two-Month Subscription
News
Capcom Assembles Super Team For PSP Role-Playing Game
Oh, So There IS A Singstar: Beatles...Sort Of...
All Things BioWare: Answers From The RPG Powerhouse About Mass Effect, Dragon Age, Star Wars And More
Don't Worry About Missing Assassin's Creed II Retailer-Tied Bonus Levels
Samurai Shodown: Edge of Destiny Dated For Japan
Modern Warfare 2 Conference: Call Of Liveblog
Consider, BioWare, The Non-Epic RPG
A Referendum On Bottomless Pits
The Lessons Learned - Or Resisted - While Making Assassin's Creed II
iPhone Chart Toppers
PlayStation 3 Firmware 3.01 Is Live
Adventures in Scribblenauts
Nintendo's Unusual 2009 Wii Strategy: Publishing The Oldies
Can 'Patrice Mode' Solve Gaming's Back Problem?
Crime Rates Drop in 08, Video Game Sales Increase
Justify Your Game: Brutal Legend
A Final Look Inside GRIN's "Fortress"
Feature
Minority Report: The Non-White Gamer's Experience
Columns
Stick Jockey: So I Went to a Fight, and a Video Game Broke Out ...
Tokyo Game Show>
What Games Are Sega Bringing To Tokyo Game Show?
What Is Microsoft Bringing To Tokyo Game Show?
Square Enix Bringing More Dragon Quest To Tokyo Game Show
Approval Ratings
Approval Ratings: Multiplayer and Online Services
Kotaku Approval Ratings: Taking it Online
Looking Back
Old News '00: Maybe Games Can Be Made In Four Months And Maybe Bungie Can Make Them
This Week In Video Game Comics [UPDATE]
Weird
Pissed Off Tea Table Flipping, The Arcade Game
Screen Grabs
The Game Looms, The Beard Thickens
This Is The Underwear Department, Honest
A Guitar Hero Too Far?
Announcements
Calling All Readers: Kotaku Party In Tokyo