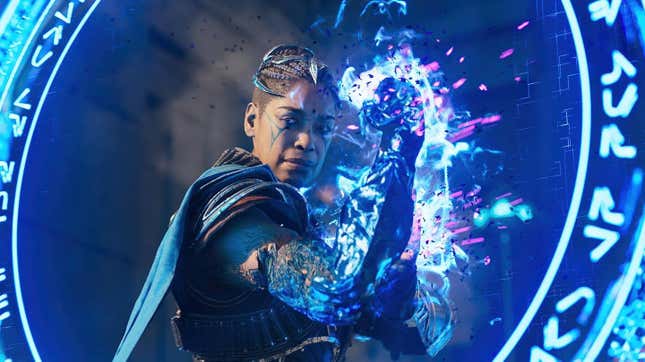 Immortals of Aveum is a Doom-like shooter where you wield magic spells instead of guns. There's something about it that feels unmistakably like an Xbox 360 or PlayStation 3 throwback, but it's actually a new, big budget indie game from the same EA Originals label that brought us It Takes Two and, more recently, Wild Hearts. And it just got delayed until the worst possible time.
Why The Hot New Redfall Gameplay Trailer Left Us Feeling Cold
Previously set to arrive on July 20, the team behind the fantasy RPG-lite shooter, Ascendant Studios, now says it won't launch until August 22. The recent feedback to the game proves what we already felt: that "Immortals of Aveum is something special," the developers wrote in a new blog post. "This will give us time to further polish the game, finish optimizing all platforms, and deliver a strong launch."
If you're not aware, late August is the start of 2023's unofficial Big Game Death March. FromSoftware's not-Dark Souls mech sequel, Armored Core VI, lands August 25. The long-awaited sprawling CRPG Baldur's Gate 3 finally leaves Early Access on August 31. And then Starffield drops on September 1 for everyone who buys the deluxe version, followed by the full release on September 6. The release schedule only picks up from there, but the gravity well around those dense games alone is enough to throw any other game off course, let alone something like Immortals of Aveum.
While the delay may be needed (I'm not sure how much can change in a month), it's still incredibly unfortunate since mid-July seemed like the perfect time to release an experimental, off-brand shooter taking weird swings in multiple directions. I played it recently at Summer Game Fest and came away from roughly 30 minutes with the game intrigued by the high-fantasy mishmash and curious if it was enough to sustain a roughly 25-hour adventure that's $70 on both PlayStation 5 and Xbox Series X/S (but $60 on PC).
Immortals of Aveum is set in a fictional world of warring mage armies where you play as a street-rat-turned-spell-casting-chosen-one under the command of General Kirkan played by Gina Torres (Firefly, Destiny 2). Its hub and spoke level design sees you embark on story quests that require light exploration and puzzle solving as you mow down opposing armies using green (submachine gun), red (shotgun), and blue (sniper rifle) magic that shoots from your hand as if you were holding an invisible gun.
In terms of sound and visuals, the result felt less like playing Call of Duty and more like traversing an old-school arena shooter. There's no real cover, and a magic shield ability and melee attacks encourage you to run at enemies and deal with them quickly. A blink ability and resource-consuming special attacks expanded the arsenal as well, with bigger mini-bosses requiring a more coordinated assault.
"it's all about play style, it's all about expression, and it's all about how you engage in combat." lead combat designer, Jason Warnke, told Kotaku. He stressed that there are no hard counters in the game, and players will be encouraged to double-down on the abilities they like most. "If somebody plays a full red build throughout the entire game, they'll have a different experience than someone who has a full blue build."
At the same time, Immortals of Aveum is trying to do a lot of other stuff, as well. Maybe too much. There's a small skill tree for you to invest points in, an armor loadout to swap in more powerful gear, and a handful of currencies to collect, seemingly for purchasing better equipment or upgrading existing abilities. It all reminds me a bit of 2021's Outriders, a great shooter weighed down by its convoluted loot system and dense but boring lore.
One thing Immortals of Aveum has going for it that other recent fantasy-based blockbusters haven't is that it's unabashedly committed to its world building. While the dense parade of unfamiliar names and proper nouns will no doubt roll right over some people's heads, I knew the game wasn't kidding around when Torres' head appeared in a floating emerald in front of my character to give me ominous marching orders like Zordon from the Power Rangers. The Suits actor is all in. We'll see if players are too.