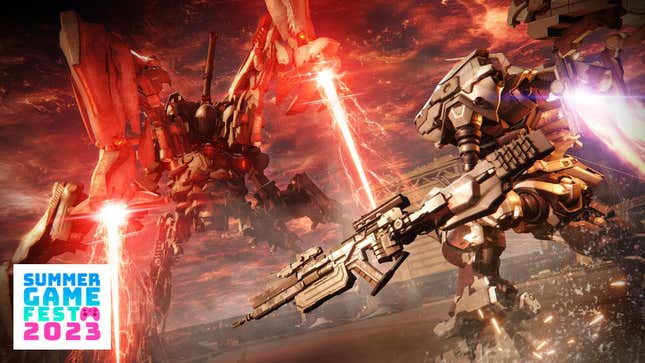 I can't tell you what it feels like to actually play Armored Core VI: Fires of Rubicon. While FromSoftware's new mech adventure is out in August, Bandai Namco wouldn't let media actually get hands-on time with the game last week at Geoff Keighley's Summer Game Fest. But I did get to watch Armored Core VI's own developers play one of its early missions, and from what I can tell it's everything the studio has been saying: a level-based based sci-fi saga where you pilot a robot to fight through opposing armies of robots with a deep emphasis on customization. In other words, Armored Core VI is very much an Armored Core-ass game.
It Looks Like A PlayStation Classic, But Your Grappling Hook Is A Frog
Out in just a couple of months on PlayStation 5, Xbox Series X/S, PC, and last-gen consoles, FromSoftware producer Yasunori Ogura assured me and others that Armored Core VI focuses on the same thing all the studio's games do: providing a sense of meaningful accomplishment through overcoming (sometimes extreme) difficulty. As the Armored Core series has in the past, however, Armored Core VI will approach that mandate slightly differently than Bloodborne, Elden Ring, and FromSoftware's other recent popular action-RPGs.
The setup for our hands-off Armored Core VI demo is simple enough: a mission briefing informs us that a group of outlaws called Dosers—who treat Rubicon's highly sought after natural resource coral like a drug—are holed up in a nearby refinery. The demo's pilot—FromSoftware dev Masayuki Sanada—selects a loadout, launches into the mission, and soon enough loads into a sprawling series of oil-rig-like industrial platforms, which emerge from the local mountain ridges like massive man-made splinters.
Armored Core VI - Two Minutes of Gameplay
FromSoftware / Bandai Namco
One thing that immediately stands out about Armored Core VI is just how much verticality there is. A thruster pack lets you fly across long chasms or reach perches much higher up. Occasional launch pads provide even more range, helping an otherwise linear-looking mission to feel more expansive and free-form. And despite the game being cross-gen, its backgrounds and architecture are eye-catching, giving the environment the feel of a grim, futuristic cathedral built from pipes and concrete.
Combat is more familiar. A combination of guns and missile launchers provide long-range options, while melee attacks let you rush in to finish enemies off up close. But Armored Core VI does have its own version of the Soulsborne posture system, where different kinds of attacks can be chained together to stagger enemies and open them up to critical hits. The mechs are much more mobile then characters in a Dark Souls game, however, speeding up the action and seemingly requiring you to think carefully about how to outmaneuver opponents and hit them where they're weakest.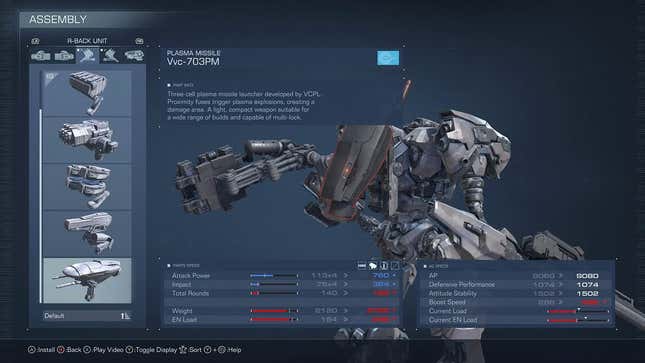 Repair packs allow you to heal up to three times during missions, while the occasional supply kit will re-fill ammo. Most importantly, there appears to be a generous checkpointing system. After dying at a mini-boss, our FromSoftware pilot was able to go back to the loadout screen and completely re-outfit, taking into account what worked and what didn't. While I only got a quick glance at Armored Core VI's Assembly system, the menus where players will be spending so much of their time seemed to provide a better balance than in some past games in the series. There are a ton of pieces to swap out for each part of your mech, with a stat screen showing all of the trade-offs, but my eyes didn't immediately glaze over the way they have in some Armored Core games. Best of all, making these tweaks didn't require starting the mission over from scratch.
The mission ended with something a little more Souls-y: an over-the-top boss fight against a giant robot that looked like a cross between a smelting plant and a street cleaner. It had giant grinders for arms that glowed like lava, with wheels that let it dash around a large arena with ease. A giant health bar made the fight seem like it might take forever, but our demo eventually cut out before it was completed. Overall, it left me hopeful that Armored Core VI will have enough footholds for new and interested players to hop aboard the mech train while not fundamentally altering the series' DNA to feel like its more popular Soulsborne cousins. That might not make it a massive hit like Elden Ring, but it's what longtime fans have been waiting for.

---
Kotaku is covering everything Summer Game Fest, from the main show on Thursday to other events happening throughout the next week. Whether you're into larger-than-life triple-A games or intimate, offbeat indies, you can keep up with all things SGF here.