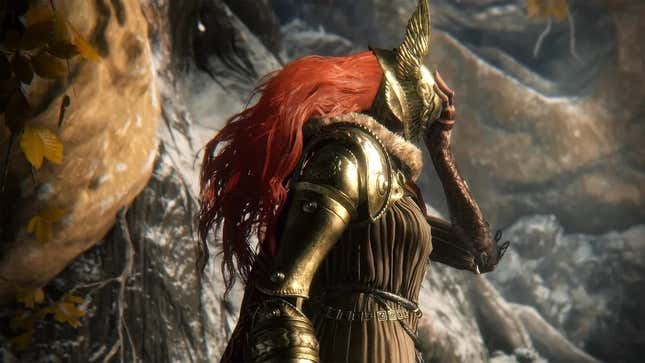 Over 20 million people played Elden Ring. Now, a year after FromSoftware's open-world Soulsborne released, we finally know which part of the game destroyed players the most. It was Malenia of course. Players attempted to fight her 329 million times, though it's impossible to say how many of those were exclusively from Elden Ring legend "Let Me Solo Her."

Tiny Tina's Wonderlands Coolest Zone Is Easy To Miss
Publisher Bandai Namco released that stat along with a bunch of other new ones to highlight the 2022 GOTY's first anniversary. While the infographics don't say exactly how many times Malenia killed players, it's a safe bet that her being the most-attempted boss means she was also responsible for the most failed attempts. After all, simply reaching her can be tough, and traversing the hidden areas and high-level enemies blocking the way is not for the faint of heart.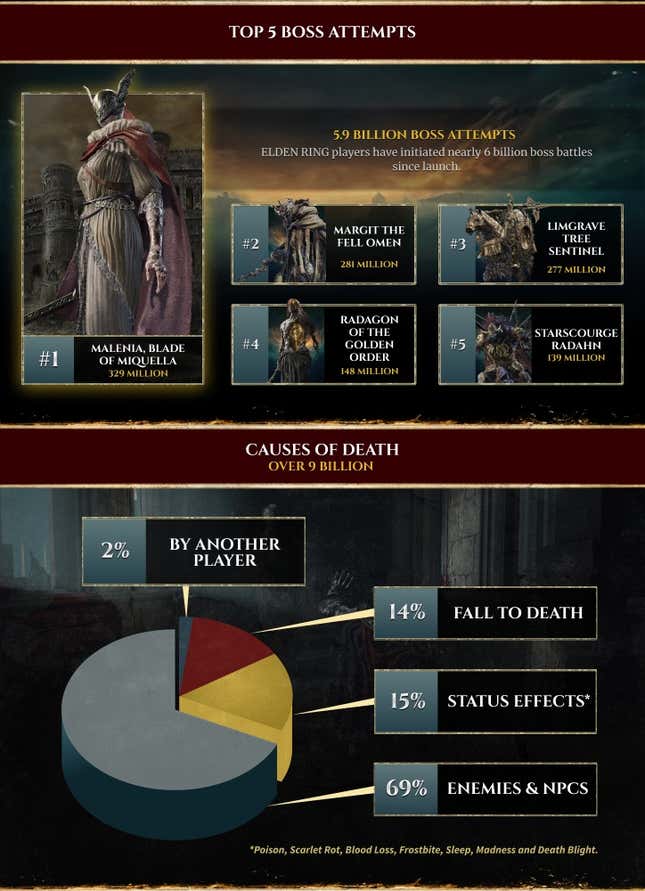 The second-most-attempted boss was Margit the Fell Omen, which is kind of funny since he's only the first major fight in the game. While challenging, especially as players are just beginning to get their bearings and grow into more powerful character builds, it's also probably a testament to how early he shows up. I would be surprised if many of the 20 million players who bought Elden Ring gave up before even encountering her, which makes Malenia's number one spot all the more impressive.
Read More: Eight Ways To Make Elden Ring Feel New Again While You Wait For DLC
The number one cause of death, meanwhile, was enemies and NPCs. That's how 69 percent of players bit the dust (nice). Player-vs-player kills were only a measly 2 percent. Most summons were for co-op as well. Only 12 percent of online play was players invading one another, a reminder that PVP makes up a passionate but very small part of Elden Ring's overall experience. FromSoftware was no doubt right then to balance the PVE and PVP parts of the game separately.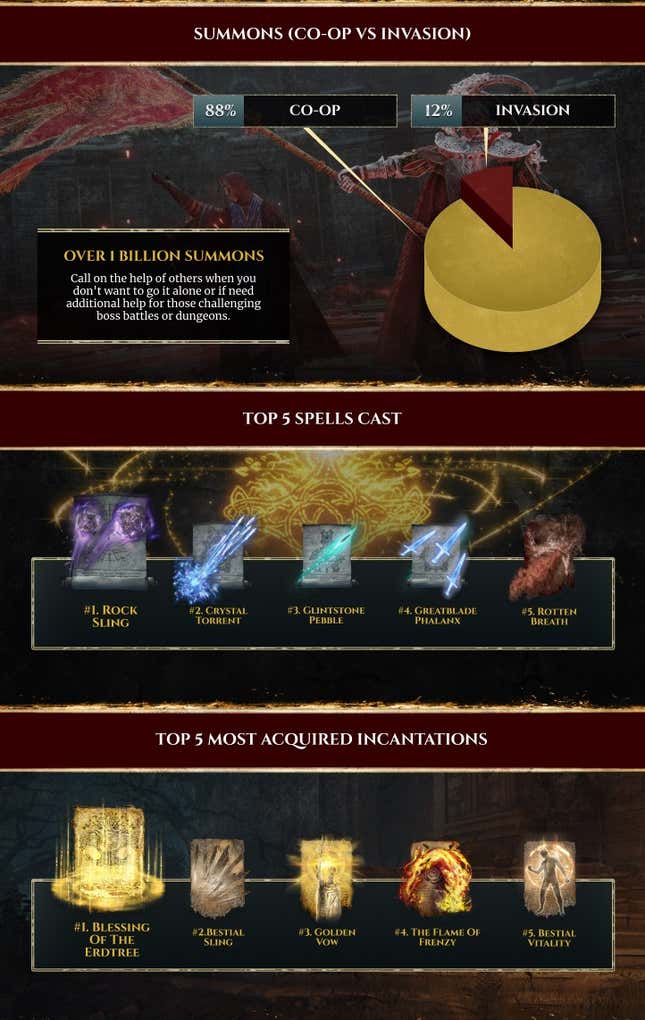 The final revealing bit of these newest stats is that Rock Sling was the most cast spell, while Blessing of the Erdtree was the most acquired incantation. What this means is that many players were seemingly running the same basic builds. Blessing is a straight heal, while Rock Sling is exactly what it sounds like, whacking enemies for high damage and also staggering them. "Sling is King," mages have chanted since the game came out. A year later they've been proven correct.
We'll see how all of that compares to what players get up to in Elden Ring's upcoming paid DLC, Shadow of the Erdtree. While there's no official release date yet, players have already spent a collective lifetime analyzing concept art for clues about what the expansion will bring and concocted new fan theories about what new secrets will be unearthed.