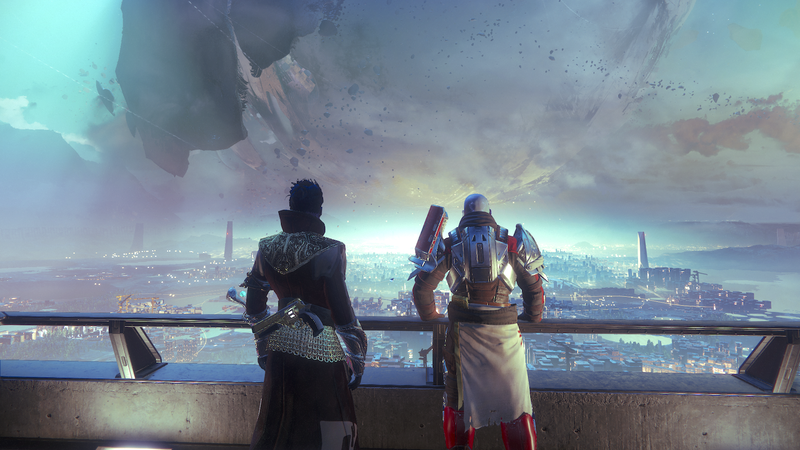 Destiny 2 launched exactly six months ago today, though at times it feels more like six years. A bunch has changed since September, and the game has gone through some dramatic highs and lows. (Mostly lows.)

Destiny 2's long, slow crawl toward its possible (hopeful?) redemption is underway. Let's step back and go over the events of the last six months.
Destiny 2 came out on September 6, 2017. Activision notoriously refuses to release actual hard sales numbers for Destiny games, though the company did say in December that D2 generated the second-highest North American revenue of any game in 2017. It sounds like it sold well, though Activision's CEO acknowledged in February that the game's players have some issues with it. It also was solidly reviewed, and the base game is sitting in the 80s on all three platforms on Metacritic. The December Curse of Osiris expansion, however, is down in the 50s on console, with a 63 on PC. As flawed as Metacritic is, those two number-ranges do accurately summarize the game's downward trajectory from September through December.
One of the game's early controversies involved the revamped shader system, which turned out to be annoying for a different reason than players feared: we have way too many shaders and they're a pain to manage and/or dismantle. There was also a set of Hunter gauntlets that featured a hate symbol, which Bungie quickly removed from the game.
The week-long Faction Rally event had players pick one of three factions and go farm coins from a variety of activities. If your faction gets the most coins, they win. Dead Orbit won the first faction rally, and New Monarchy won the next three in a row, so the count as of March 2018 is: Dead Orbit: 1, New Monarchy: 3, Future War Cult: 0. Future War Cult's lack of a win indicates that people care more about cool armor and shaders than they do about good guns, which, fair enough. Bungie has indicated that Faction Rallies and Rally rewards will be getting some tweaks and improvements in the months to come, but for now the system has remained mostly unchanged since launch.
In October, Bungie's official "Okay, We Want To Fix Destiny 2" campaign got underway. It started with a vague but promising blog post from live team game director Chris Barrett, who outlined a bunch of goals for improving endgame pursuits.
The competitive Crucible changed significantly from the first game: Team size had been reduced from six to four, abilities and super meters recharged much more slowly, the new weapon loadouts meant fewer active one-hit-kill weapons like shotguns and sniper rifles at any given moment, and weapons generally did less damage, rewarding teams for playing conservatively and sticking together. We spoke with a number of top Destiny 2 players about the state of PvP in October, and there was a consensus among them that the PvP had problems. The way the game had been rebalanced encouraged conservative, boring play and made solo "hero moments" much rarer. In the months since our article, PvP players have only grown more dissatisfied. That's a major problem for the game, given that spicy PvP was a big part of what gave the first Destiny such longevity.
Curse of Osiris included one more major screw-up: the expansion locked players who hadn't bought the season pass out of some high-level content they'd been able to access the week prior. Bungie quickly admitted that "we've made some mistakes" and backtracked, reverting to old power requirements. The rest of December was easily Destiny 2's lowest point so far. It had begun to feel like every week might end with another sheepish apology from Bungie, and another vow to do better. A tide of resentment swept through the hardcore fanbase; "Goodbye, Destiny" videos became a common sight on YouTube; high-profile streamers began to move to other games like Fortnite and PUBG as the game's Twitch viewership plummeted. The tides had turned against Destiny 2, and it became clear that the series would need months or even years to recover its standing among fans.
2018 started out unevenly: there was another micro-controversy breaking out surrounding Faction Rally rewards, along with another, even more detailed post from Bungie about improvements coming to the game, including a promised de-emphasis on microtransaction items. So much of what was happening felt like a repeat of Destiny 1's rocky first year, and the sequel was repeating its predecessor's mistakes almost to the letter.
Ikora Rey's notification was bugged and had been blinking for me for months. It was driving me batty. Bungie finally patched it on January 30, and I felt such relief, I cannot even tell you. I know this isn't really as substantial as the other entries in this post, but man, it was so annoying.

On a more positive note, the improvements Bungie had promised in late 2017 (slowly) began to appear in the game. Masterwork weapons had been introduced in December but by January, enough players had masterwork guns that their orb-generation ability began to noticeably increase the amount of supers each player got during strikes. The game has also gotten an overhauled Nightfall strike system, a bunch of armor ornaments that can be unlocked by completing in-game challenges, some new emblem variants, and public tower chat for PC players. Nothing groundbreaking, but improvements are improvements.
The game's weapon balance has remained more or less stagnant since September, which has frustrated PvP-focused players who had hoped for more frequent balance updates. There was one significant(ish) balance patch in December, but it mostly made nips and tucks, rather than upending the careful (but, some players would argue, boring) balance Bungie had struck at launch. That looks like it'll change in the near future, with a significant rebalancing update due on March 27, which Bungie says will buff a bunch of weapon archetypes, speed up player movement, hasten ability recharges, and reduce power ammo respawn timers, among other things. (Those balance changes will also affect PvE play.) The 1.1.4 update, as it's called, will also introduce the aforementioned 6v6 Iron Banner, as well as reintroducing Destiny 1's Mayhem and Rumble game-types.
Destiny 2 also wasn't hiding any noteworthy secrets like the classic D1 mystery hunts—Sleeper Simulant, Black Spindle, Outbreak Prime—that we recently revisited on a special episode of Kotaku Splitscreen that you should definitely go listen to if you're reading this. When asked in January if Destiny 2 would be getting more hidden quests like those ones in the future, Barrett responded on Twitter with a single word: "Yup."
Bungie created and then updated a clear timeline to help players keep track of what changes would be coming and when. The roadmap has already shifted once; here is the most current version, which was posted on February 21, 2018:
And that's where things are at. Season pass owners will get one more Curse of Osiris-size expansion sometime in the next few months, followed by another more substantial paid expansion in early fall, similar to how the first game got House of Wolves in June of 2015, followed closely by that September's The Taken King.

Destiny 2 has had a rough half-year, but the steady drip of changes and improvements indicates an upward trajectory. It feels as though the game won't hit a comfortable new path until the big fall expansion at the earliest, assuming that is indeed the Taken King-style overhaul most of us assume it'll be. In the interim, the next big change to look forward to will be the weapon balance update at the end of March, which coincides with the return of Rumble and 6v6 Iron Banner.

Are you still playing Destiny 2? Have you taken a break, or maybe uninstalled the game and traded in your copy in disgust? Did you switch to Monster Hunter: World and never look back? I played for a few hours over the weekend, which was my first extended foray into Destiny 2 in more than a month. I had fun and appreciated the small improvements Bungie has made so far, though the game still feels a few substantial spritzes shy of fully freshened up.
Update: Added a bullet point about Bungie's evolving approach to the Eververse, microtransactions, and limited-time seasonal events.