The Tokyo Game Show doesn't really kick off until late tonight with the Sony Press Conference, but Nintendo made quite a splash early this morning with a news-packed press conference of their own.
They talked about the new, now official, 3DS Slidepad add-on. We heard about new games like a 3DS Monster Hunter and new features for the 3DS, like the upcoming ability to capture 3D video (so called that.) But I bet you were probably sleeping. So here's a nifty round-up of all of the news in case you missed it.
Don't forget to swing by tonight, (about 11 p.m. eastern) to check out our Sony liveblog.
---
3DS Hardware
---
G/O Media may get a commission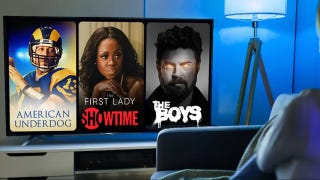 UNDER $1
99¢ Prime Video Channels
Late last week, Nintendo revealed it was working on an extra slide pad for the Nintendo 3DS. Today, the company dated and priced said extra slide pad. More »
---
Designed to appeal to the fairer sex-it's pink, you see-Nintendo will release the "Misty Pink" version of the Nintendo 3DS on October 20 in Japan, said president Satoru Iwata. More »
---
During today's 3DS Conference, Nintendo President Satoru Iwata mentioned that the ability to capture 3D video footage was coming to a November system update. More »
---
3DS Software
---
When the extra Nintendo 3DS circle pad was revealed, it was shown alongside Monster Hunter 3 G. That's not the whole list of 3DS games that will support the extra slide pad. More »
---
The secret to Sony's success in Japan is summed up in two words: "Monster" and "hunter". The series has sold millions of PSP copies and millions of PSPs. More »
---
Next year, role-playing game know-it-alls Square Enix will grace the Nintendo 3DS with a new, original RPG. It's called Bravely Default: Flying Fairy, a silly name for a potentially intriguing game. More »
---
Capcom is developing Monster Hunter 4. The was revealed today at the Nintendo 3DS Conference as a 3DS title. More »
---
Originally planned as a launch title for the Nintendo 3DS, Kid Icarus Uprising, a sequel two decades in the making... err, waiting will have to wait a little longer. Kid Icarus Uprising is now a 2012 title, Nintendo revealed at its 3DS Conference in Tokyo today. More »
---
The Nintendo 3DS's 2012 is already looking rosy with new versions of Mario Tennis, Paper Mario and Animal Crossing planned for a release next year-at least in Japan. More »
---
As revealed earlier today, Monster Hunter 4 is in development for the 3DS. The game is still early, and Capcom is calling the debut trailer screened at today's Nintendo 3DS Conference a "concept clip". More »
---
Fire Emblem is coming to the 3DS. So is Culdcept, soccer simulator Calciobit, and scary game Shinrei Camera or "Spirit Camera", from the makers of Fatal Frame. More »
---
At the 3DS Conference, Nintendo showed 28 games. Some of them were Nintendo titles. Some of them were not.
Sister site Kotaku Japan compiled a list of the titles, along with their Japanese release dates:
Nintendo Titles
Super Mario 3D Land Nov. More »
---
Zelda
---
This year marks the 25th anniversary of The Legend of Zelda. To celebrate, Nintendo isn't giving Zelda or Link presents. It's giving you one.
Between Sept. More »
---
Photo: Getty
---
You can contact Brian Crecente, the author of this post, at brian@kotaku.com. You can also find him on Twitter, Facebook, and lurking around our #tips page.