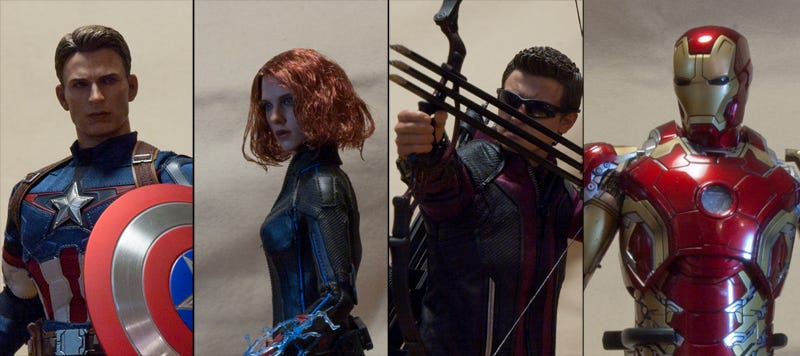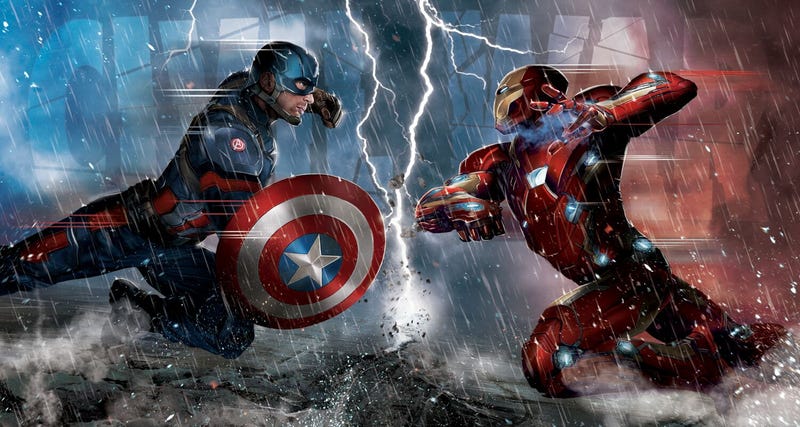 While there's been many rumors circulating about just who is fighting who in the next Captain America movie—but newly emerged promotional art has given our first look at just who is standing with Captain America or Iron Man in Marvel's impending superheroic dustup. There's even a surprising face or two... spoilers… »8/27/15 12:30pm8/27/15 12:30pm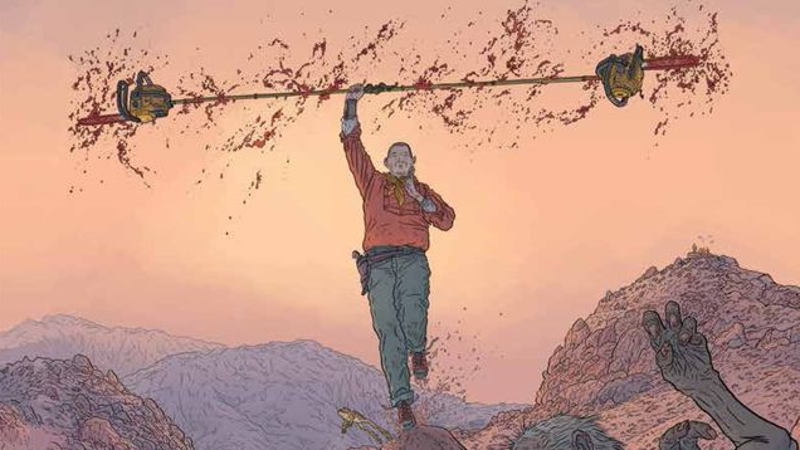 Comics are a visual medium—but most comics still rely heavily on narration and dialogue. Once in a while, though, a series, a single issue, or even one great scene in a comic will forgo text, or keep it at a minimum, to tell a gorgeous story with just images. Here are 10 pieces of comic art that don't need words to… »8/03/15 1:55pm8/03/15 1:55pm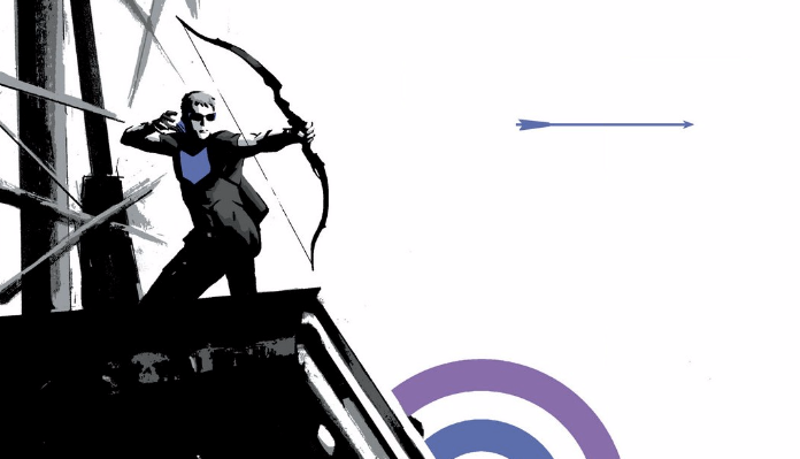 If all you know about Hawkeye is that he's a guy who shoots arrows in the Avengers movies, then you don't know anything about Hawkeye. Lucky for you, then, there's an excellent comic-book series that shows you just how awesomely complicated Clint Barton is. For example, he's great with boats. »7/21/15 2:30pm7/21/15 2:30pm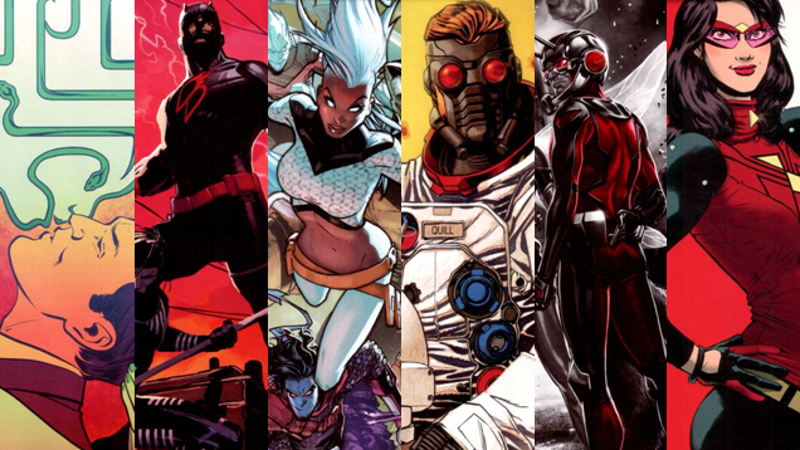 Whoa. We've been getting dribs and drabs of reveals for Marvel's upcoming universal reboot over the past week, but it looks like the jackpot has just hit: Comics retailers across the world have received previews for 45(!) of Marvel's new series, and it sounds like it's a whole lot of crazy. »6/30/15 1:00pm6/30/15 1:00pm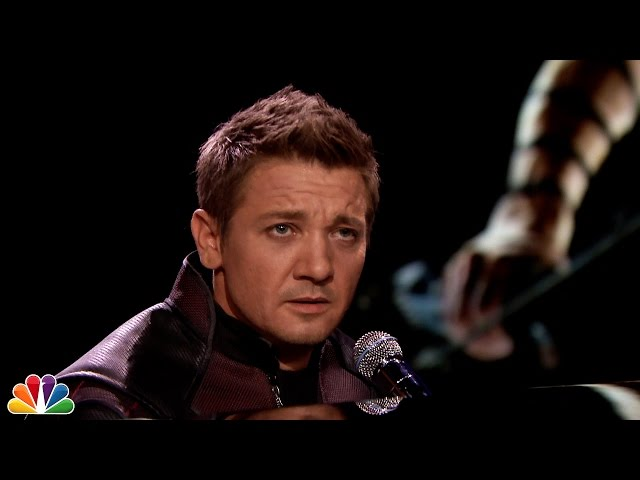 Addressing criticisms that he's outclassed by the rest of the Avengers, Jeremy Renner's Hawkeye gifted The Tonight Show audience with a soulful song about his secret super powers, which include collecting scarves, free guac and Mario Kart. »4/29/15 9:40am4/29/15 9:40am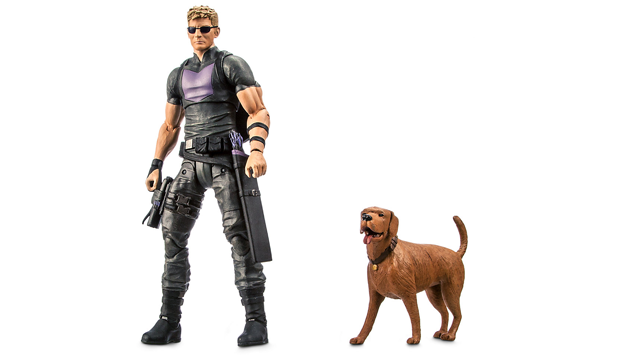 When Matt Fraction and David Aja's strikingly brilliant Hawkeye run began in 2012, it gave us the year's breakout comic character. I am, of course, talking about Pizza Dog, Hawkguy's (or is it Hawkeye's?) canine companion. And now, thanks to Diamond Select, Pizza Dog gets his own figure. Complete with Hawkguy! »3/24/15 7:00am3/24/15 7:00am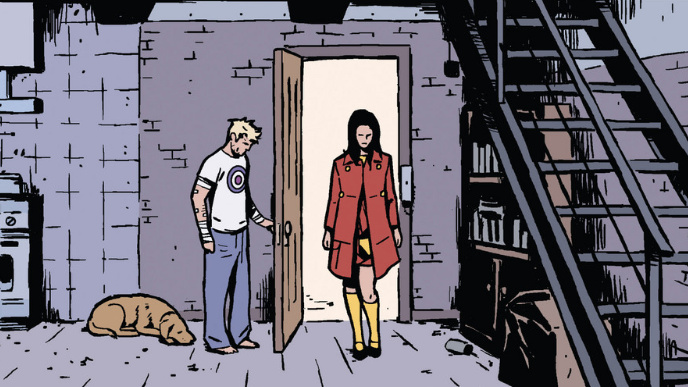 So far, Matt Fraction's writing on Hawkeye has been shot through with a rough-and-tumble, devil-may-cay energy, where Clint Barton plows through overwhelming circumstances with little forethought. It's been a fun read, filled with great banter and amazing minimalist art from David Aja and other contributors. »4/11/13 4:15pm4/11/13 4:15pm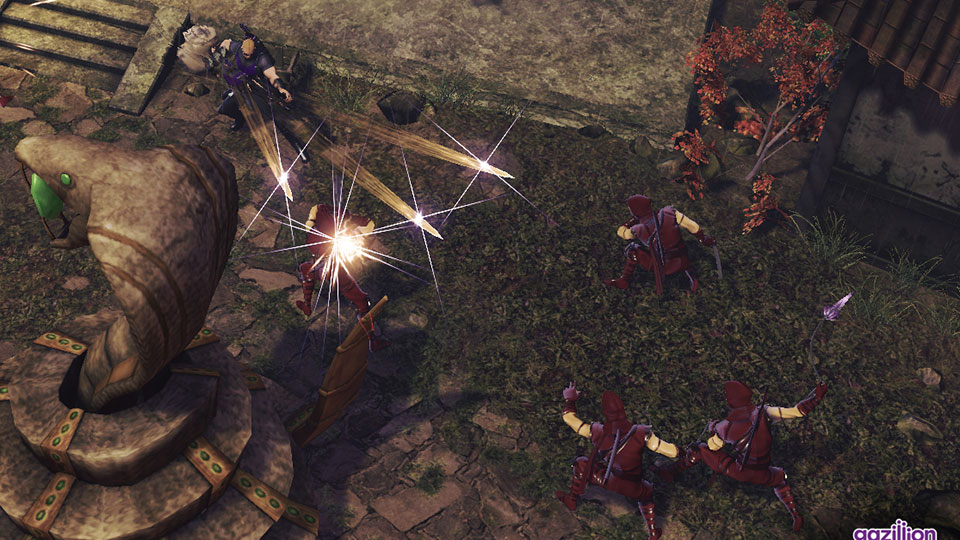 The Avengers' Hawkeye (lovingly referred to by comic scribe Matt Fraction as Hawkguy) gets a lot of flak from fans and movie-goers for being the guy with the bow and arrow trying to keep up with the equivalent of spandex-wearing gods, but I'll pit my level 15 Hawkeye against your level 1 Hulk any day.

I spent a… »12/18/12 3:30pm12/18/12 3:30pm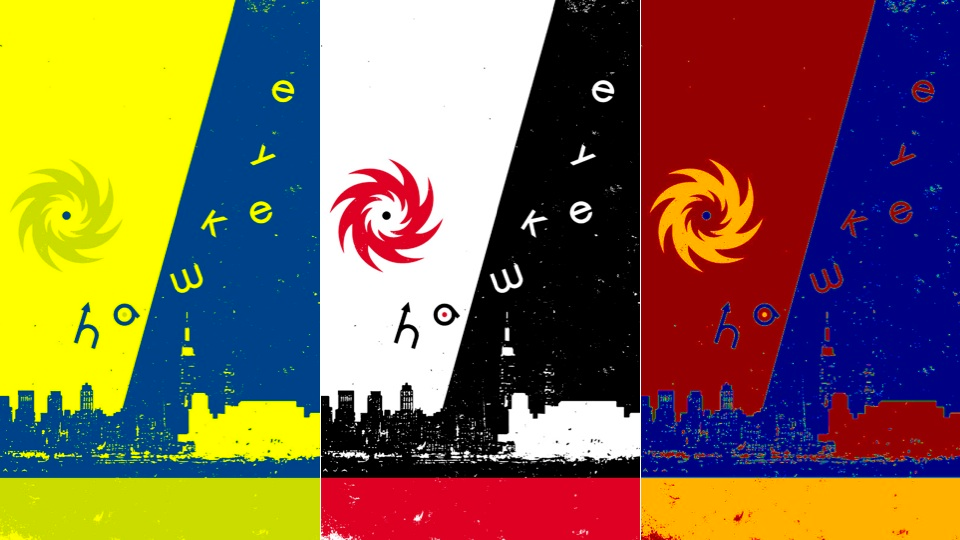 Matt Fraction's one of the best comics writers out there now. And the gesture he's making with the upcoming
Hawkeye #7 »
should just confirm that.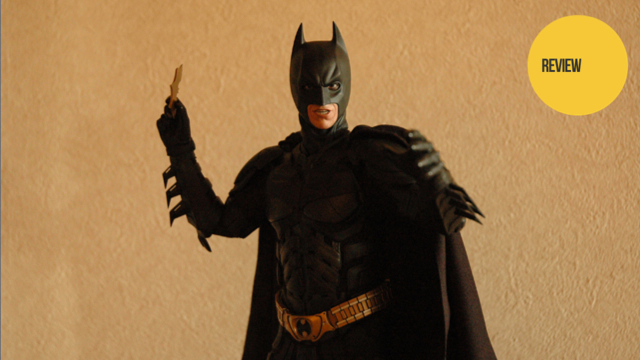 Following up my review for the Hot Toys Avengers Hawkeye figure, I was surprised to find my order of the Hot Toys Movie Masterpiece The Dark Knight Rises 1/6th scale figure Batman arrive in the mail. Granted it was one month late, but the Hong Kong collectible company is both notoriously and understandably late in… »11/22/12 6:00pm11/22/12 6:00pm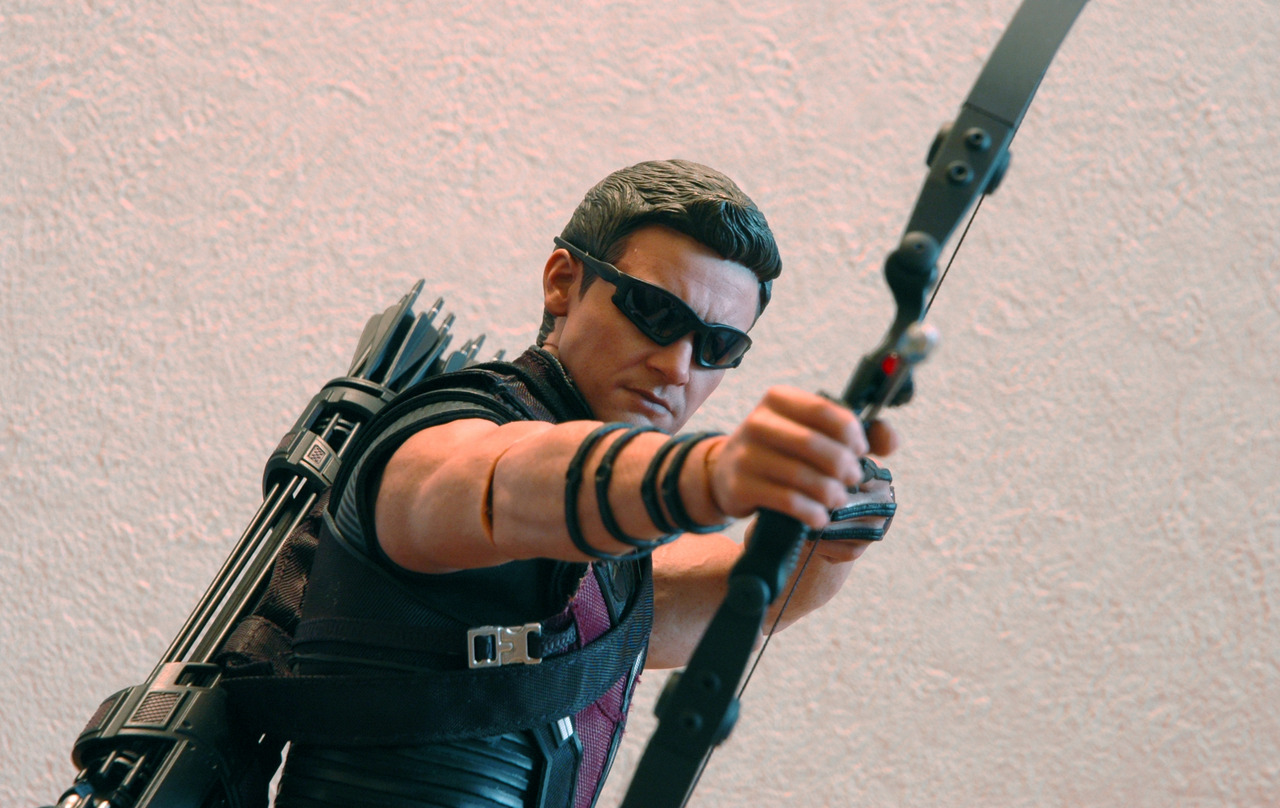 Adding to their long list of pretty amazing look-alike figures, Hong Kong collectible company Hot Toys has recently released the underappreciated archer, Hawkeye, to their Avengers lineup of the 6-inch Movie Masterpiece collection. The figure was originally slated for a September release, but was delayed until late… »11/01/12 8:30am11/01/12 8:30am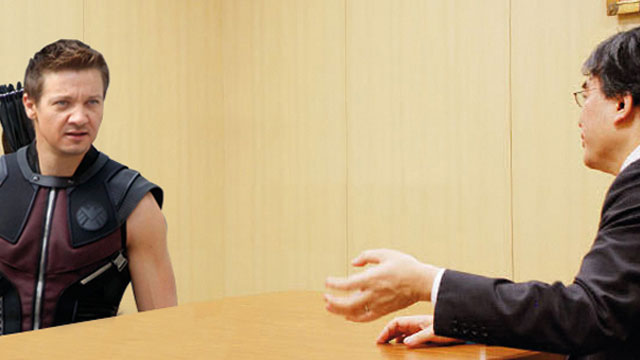 "There is always the risk that you will run out of arrows. There is never a risk that The Incredible Hulk will run out of Hulk." Hawkeye from the Avengers suffers the slings and arrows of outrageous Nintendo president in the latest installment of
Nintendo Gamer »
's lost Iwata Asks files.
This November Capcom fighting fans will feel the vengeance of Ghost Rider, the sting of Hawkeye's arrows, the fury of Firebrand, and the sexy skill of Strider, four of twelve new characters joining the battle in Ultimate Marvel Vs. Capcom 3. »7/20/11 12:40pm7/20/11 12:40pm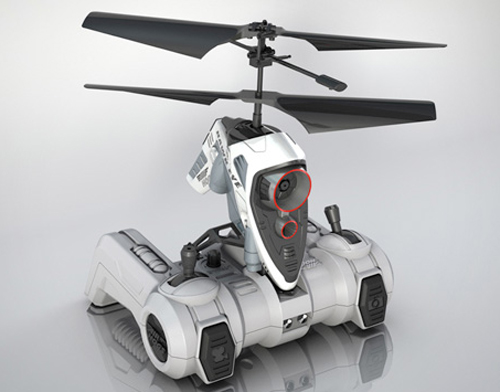 Flying an RC helicopter? Sure, that's fun for a little while. Flying an RC helicopter that can shoot both video and still photos? That's good for a lifetime of creepy stalking memories. »8/02/10 5:34pm8/02/10 5:34pm