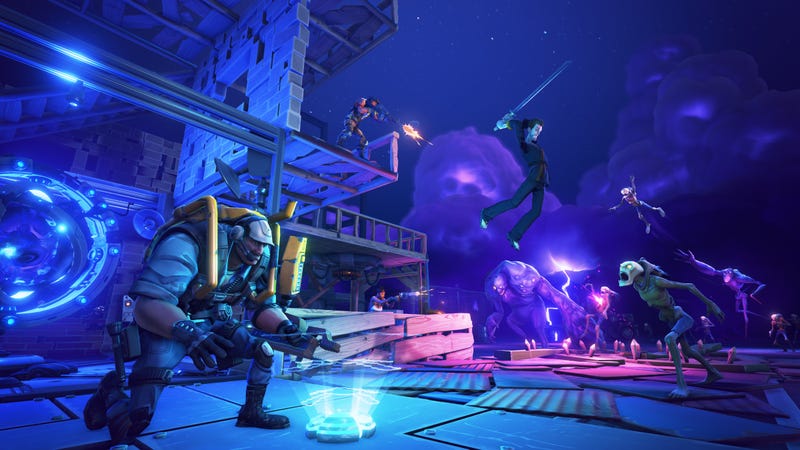 Fortnite doesn't feel like the kind of experience that should be coming from Epic Games. This is the House That Shooters Built after all, with huge slabs of foundation laid down by Unreal Tournament and Gears of War. But, despite being a game that takes heavy cues from Minecraft, Fortnite represents an evolution for…
Despite putting the game out in the open way back in 2011, Epic has remained relatively quiet about its cartoonish shooter Fortnite ever since. Now it's finally starting to put the game back in the spotlight by releasing promising footage like this new gameplay trailer.
With the sale this morning of its iconic Gears of War franchise, Epic Games felt compelled to say it still is in the business of making video games, not just the technology that drives them.
There are things that go bump in the night in Epic Games' next title. Fortnite is like many games put into one, but at its crux it's a survival, building game. So when the monsters start coming out, you've hopefully constructed some safe ground to defend against them.
Fortnite, revealed last nite (rimshot) at the Spike Video Game Awards, is one of those games whose elements seem to be either derivative or easily recognizable, yet an easy description remains tip-of-the-tongue elusive. It's a got resource gathering, but it's not really Minecraft; cartoony characters, but you can't…
They teased it earlier this week and tonight on the VGAs, the makers of Gears of War 3 revealed their newest game. Called Fortnite, it appears to expand on the fortification/tower defense mechanics introduced in Gears of War 3 with an all-new art style that leaves the gritty, steroidal look of previous Epic games…