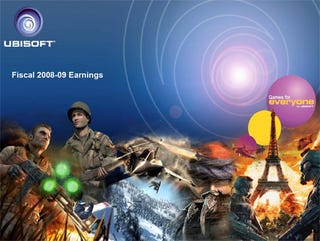 As part of the company's announcement of financial results for its just-concluded fiscal year, Ubisoft has announced release windows for its full line-up through the end of March 2010.
Highlights on the list include Q3 (November 2009 to December2009) releases for Assassin's Creed 2, which Ubi prez Yves Guillemot says will cost 20 percent more than the original and be a much bigger game; the long-delayed Splinter Cell: Conviction; the MotionPlus-only Red Steel 2; Wii-exclusive Shaun White Snowboarding: World Stage and Rabbids Go Home.
Announced for early 2010 (Q4 ranging from January 2010 to March 2010) are strategy title R.U.S.E., survival game I Am Alive and a new Ghost Recon.
Notably absent from the list is the previously-teased Beyond Good & Evil 2.