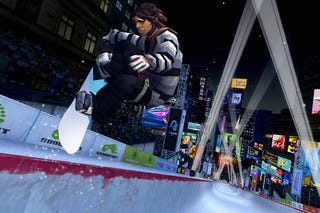 Skateboarding Wii owners get another excuse to break out their Balance Boards this holiday season, as Ubisoft announces Shaun White Snowboarding: World Stage.
Following up on the success of last year's Shaun White Snowboarding: Road Trip, World Stage is another Wii exclusive snowboarding title featuring cartoony characters. This time around, players will find themselves following the competition circuit, visiting a wide variety of real-world locations including New York, France, Canada, and Japan.

"Ubisoft has been a great partner, and I'm excited for World Stage," said action sports phenom Shaun White. "It's cool to give people insight on what my life is like on the competition circuit."
That and these screenshots are all we have so far, but with the game being presented during Ubisoft's E3 2009 press conference, I'm sure we'll have more information soon.