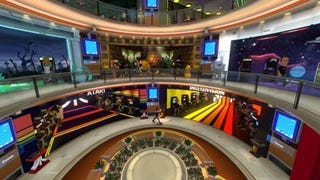 One of the biggest potential stumbling points for the 360's (and PC's!) Game Room - having to secure an endless stream of ESRB ratings - has been solved in a fairly unique way by Microsoft.
Our men at CES have just tried out the Xbox 360's virtual arcade, the Xbox Game Room, at CES. Watch and decide if the Game Room is for you. Some very cool stuff here, about, of all things, the audio.
In case we needed further proof of the Xbox Game Room concept, here's Microsoft's Robbie Bach explaining exactly what it is, complete with Journey reference.