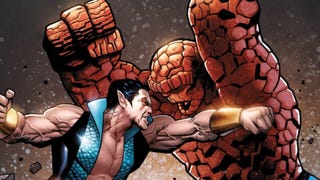 One might ask, does Capcom really need to revisit the work of Marvel vs. Capcom 3, which came out in February, in the form of Ultimate Marvel vs. Capcom 3, due out next month? Capcom special consultant Seth Killian justifies the new title by saying that the development team's gone back under the hood and re-balanced…
A panel comprised of some of the nation's pre-eminent jurists, legal scholars and court observers pondered California's violent video games statute, which goes before the Supreme Court Nov. 2, and concluded the high court will decide 6-3 for California.
The newly canceled 1 vs 100 Xbox Live game show isn't the only clever idea for the Xbox 360 that has met its meteor. Let's review some 360 initiatives that seemed cool but now seem dead.
When Sony announced the PSP-3000 in Japan, they also announced three bundle deals. One of those was for a Gundam bundle, which would cost ¥24,840 ($230), and feature Gundam vs Gundam and a limited edition Gundam PSP. Anyway, here's the PSP! Hardcore fans and those standing right next to the unit will see that those…