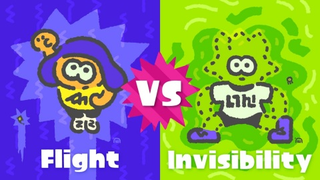 Splatoon 2's next turf war battle for the arbitrary supremacy of one thing over another—SplatFest—is Flight vs. Invisibility. It will run between September first and second.

Splatoon 2's first post-launch Splatfest has a theme, and while the event hasn't officially begun yet, people are already getting riled up. The lobby has become a battleground, with everyone making a case as to why you should pick one side over the other. Marina, as everyone guessed, is Team Ketchup, while the gremlin…
After spending more than a year falling in love with Callie and Marie, Splatoon's final Splatfest asked players to choose between them. It was incredibly close, but we've decided to live with mom. Wait.
Splatoon's Splatfest, its eight-player inky turf war, is ending on July 24th, Nintendo announced yesterday. And it's the ultimate battle: Callie vs. Marie, Splatoon's two spunky mascots. Inklings are riled up over #waifuwars, as it's being called, and already picking sides — or bemoaning Splatfest's end:

Splatoon's Splatfest event was delayed over "tentacle difficulties," according to Nintendo, but it's back on for July 4th at 12 AM PT through 11:59 PM. During Splatfests, players choose a side and fight for dominance. This week, it's cats vs. dogs. (Go dogs!)