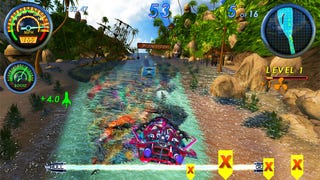 Developer Specular Interactive's spiritual sequel to Hydro Thunder, known as H2Overdrive, looks to offer everything you'd want from a proper sequel to Midway's high-speed, big jump-filled boat racing game. Specifically, that's just more Hydro Thunder.
1UP has the first in-action clips of H2Overdrive and my goodness does it look lovely.
Activision, Konami and the guys who make Buck Hunter? Strange combination. But that's the team behind the arcade version of Guitar Hero, and in an interview with MTV, they've spoken at length on the game.