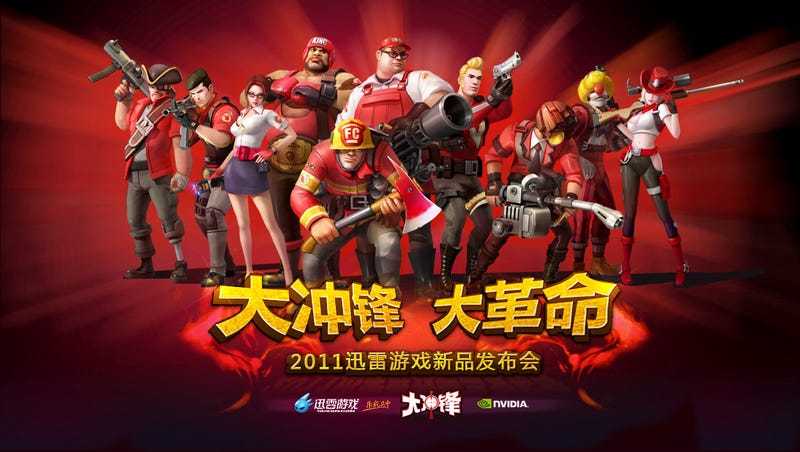 The game makers of China, not content to let the Koreans corner the market on Team Fortress 2 clones, have created their own in Final Combat, only this one is way, way more blatant than previous efforts.

The people who publish Call of Duty have been talking about their plans to bring more players into the online multiplayer fold, specifically targeting Asian players. Today, Activision finally divulged some details on its Chinese Call of Duty plans.
A giant mecha statue is going up in China. It looks like Gundam — if Gundam was sickly orange and built by men on bamboo poles. Japanese netizens are holding this up as another Chinese rip-off. Is Japan really one to talk?
While the botched "Engrish" translations in video games like Zero Wing, the Ninja Warriors and Metal Gear have provided us with years of amusement and long-running memes, officials in China are trying to stamp out mangled English.
Despite declining stock value, Giant Interactive — the company behind the intriguing MMO Zhengtu Online, which is a mix of MMO, gambling, real money transactions, and gold farming — is still tearing up the Chinese market. Steve of PlayNoEvil has some interesting analysis up of some recent numbers, which have…
Poor Shanda. Poor Chinese game companies! A surprising number of suits have been brought against them in the past year, but this — for a more reasonable 11,000 RMB ($1600) — takes the current cake. Shanda froze the account of a Legend of Mir player (for unspecified reasons), who is now suing for emotional distress…
In China, it's the glitzy cities that get the attention — Shanghai in particular is the city that garners the most attention in scholarship (and frequently in the press). I was somewhat relieved to see that this is not confined merely to China specialists, but game industry watcher types as well — the most recent…
Oh, the punny, punny Chinese language — an article from an Indian site noted that a "new online game" is offering Chinese players the chance to go after people engaging in cangdu (smuggling drugs, 藏毒) which, if you use the other pronunciation of the first character, sounds like zangdu (Tibetan independence, 藏獨). Some…