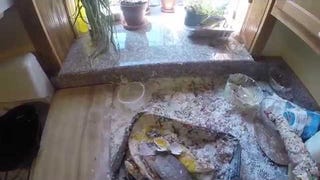 An octopus cooking for you? Must mean that there's new DLC coming for Octodad: Dadliest Catch. Coming later this summer, the Shorts add-on (because, y'know, it's hot) will be free and features new levels where you'll need to pretend that an eight-armed underwater creature is a just a normal ol' human father.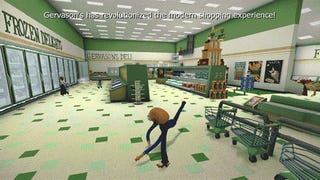 Surprise! Octodad: Dadliest Catch will arrive on PS4 this coming Tuesday, April 22. The PS4 version will be more or less the same goofy trip as the PC version, though some of the back half has been re-tuned to be less annoying. (The PC version's been patched, too.)
"Octodad was a fun, fascinating example of humour tinged with tragedy—a tragedy many people won't see, of course, which is fair—but one that resonated with me greatly." Starbound writer Ashton Raze, in a Telegraph article on how playing Octodad: Dadliest Catch reminded him of his own medical condition.
The thing about humor, Phil Tibitoski told me, is its ability to mask hidden truths—sometimes, these are things that are actually kind of disquieting. This somber remark seems strange coming from the president at Young Horses, the folk behind Octodad: Dadliest Catch—an amusing game about the difficulty that comes…
Physics glitches that are common at the start of development can be hilarious. But when it comes to Octodad: Dadliest Catch, they're actually quite frightening.

If your family wasn't suspicious of your tentacles masked only by a suit before, they'll certainly be wary when they're flailing around like a wacky waving…
The video game about the difficulties of secretly being an octopus while wearing a business suit, Octodad, is getting a sequel. But it won't happen without the help of people hungry for third-person tentacle stealth action willing to spare some change.
Octodad is the video game tale of one suit-wearing dad whose wife and kids don't realize he is an Octopus. Despite what its developers from DePaul University told me today at the Game Developers Conference, I'm sure it's not a documentary. I'm also sure that they've created a Kinect demo of the game, because…