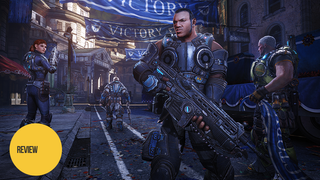 Our Gears of War: Judgment review has been updated with a multiplayer segment as well as an overall verdict on the game (finally). To sum: you might have a better time picking up Gears of War 3 instead.
We've already seen Kumail Nanjiani making jokes about video games, that's what a comedian who loves his hobby (and lots and lots of video games) does.
The 'Shop Contest we run on weekends is for bragging rights only. deviantART don't fuck around, however. It's offering a $10,000 cash prize to whomever sends in the best wallpaper in a promotional Gears of War 3 contest offering a lot of other loot to the runners-up, too.
I recently got myself in a bit of hot water by mentioning I wasn't all that excited for Gears of War 3. I didn't mean it as an insult. It's just that there are a million interesting new games coming out this year that hold the promise of new experiences, while Gears is going to be more, well, Gears.
Rolling-ball games, with their single control and simple purpose are another genre perfect for mobile platforms, though it can be hard to stand out with much distinction. That is not a problem faced by Gears an iOS game that marries Marble Madness and H.G. Wells. A gorgeous, easily understandable game, Gears ladles on…
A new App on the iPhone serves up details from the Steam community to your iPod Touch or phone.